38,000 children with disabilities not attending school, SRSG Tanin hears during visit to UNICEF
An estimated 43,000 children with disabilities across Kosovo should be in school, but only about 5,300 of them will be returning to the classroom when schools open on 1 September, Special Representative of the Secretary-General (SRSG) and Head of UNMIK Zahir Tanin learned on Wednesday during a visit to Kosovo's UNICEF office.
Warmly welcomed by Murat Sahin, the Head of UNICEF in Pristina, SRSG Tanin took the opportunity to engage with UNICEF staff to learn about programme implementation and priority concerns. Addressing the disadvantages faced by children with disabilities is at the very top of UNICEF's list, SRSG Tanin was told. Sharing the story of 13-year old Fiona from Fushë Kosova/Kosovo Polje, who had not been able to go to school for over three years despite a keen wish to do so, Mr. Sahin explained that children with disabilities often face insurmountable obstacles in Kosovo. These start with social norms, which tend to stigmatize people with disabilities, and continue with structural obstacles such as lack of transportation or facilities (inadequate toilets, inaccessible class rooms) and insufficient specialist support.
SRSG Tanin was invited to launch a UNICEF poll of more than 5,000 young people from Kosovo on the issue of integration of children with disabilities. UNICEF's social platform "U-Report", available via Facebook and Viber, permits UNICEF to sample young people's opinions on a select range of topics.The results of the poll, in which some 1,085 youngsters participated, are telling. 59% of the respondents did not consider society in Kosovo as inclusive for children with disabilities:
The biggest barriers for inclusion identified by youngsters were: society's mentality (39%), lack of cash benefits (22%), lack of services (14%), and lack of inclusive legislation and policies (14%).
Young people believe that accessibility of education for children with disabilities will be boosted by personal assistants at schools (33%), curricula adapted for respective needs (30%), assistive devices including wheelchairs (17%), free transport to school (15 %) and physiotherapy (5%).
The biggest required support for parents of children with disabilities was identified as financial support (34%), community support (24%) and professional services and trainings.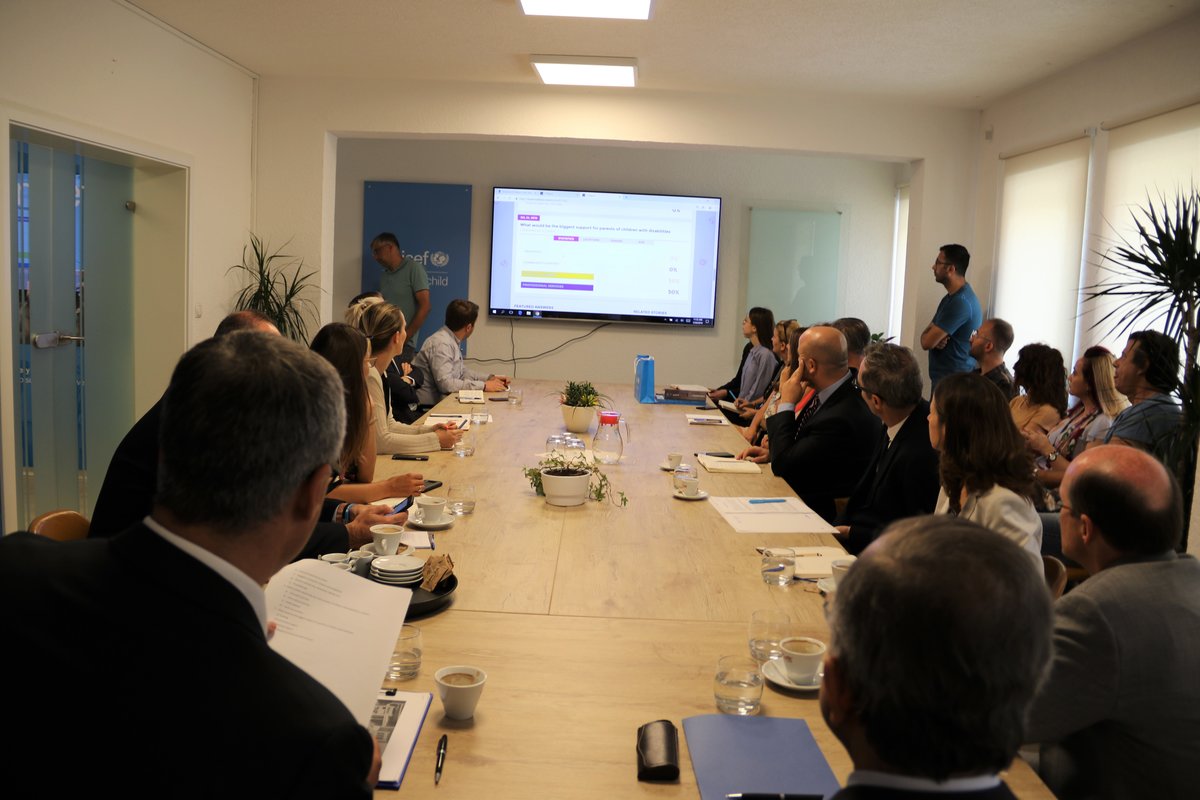 SRSG Tanin and Mr. Sahin also exchanged on other child-related priority areas for the United Nations, including early childhood development, youth empowerment and evidence-based policy-making, reflected in the trust-building agenda that has informed much of the United Nations activities over the past year.
SRSG Tanin thanked Mr. Sahin for the invitation and insightful presentation.