UN Kosovo Trust Building Forum: Understanding Trust-building and Crossing the Boundaries of Distrust
 
Global examples of how to build trust, including from the Middle East and South America, were discussed in context of furthering Kosovo's own pathway to the future during the United Nations Kosovo Trust-Building Forum.
The three-day forum, held in Slovenian capital Ljubljana from May 6 to 8, played host to a number of international experts who discussed examples of successful trust-building from around the world in a panel facilitated by Representative of the Secretary-General and Director of the United Nations Office in Belgrade Simona-Mirela Miculescu.
Crossing the boundaries of distrust: Experiences from around the world  
Retired United Nations Assistant Secretary-General Mr. Julian Harston told participants conflicting narratives needed to be abandoned, while unaddressed grievances could become obstacles to building trust and peace.
Amongst solutions that he had encountered on his long and dynamic career in the peace-building world, during which he has worked in troubled contexts such as Northern Ireland, Chile and Argentina, he noted the vital role of women in building peace – who are too often treated as victims, rather than agents in their own right.
"There's a common failure in most of these processes to address gender…and the issue of active participation is often disregarded. Failure to address violence against women is one of the major structural failures of most of the reconciliation processes that have taken place so far."
He also spoke about the need to engage society from the bottom up, and to put a priority on truth-telling, reparation, justice and healing.
Ms. Nagwan Abdelmaboud Mohamed Soliman, from the European University Institute spoke about her experience working to bring reconciliation and peace to the Christian and Muslim communities in South Egypt through using the medium of story-telling.
She pointed out the importance of using a multi-dimensional approach that addresses and accommodates social, economic and religious differences.. As one of the important aspects of trust-building, she highlighted the significance of having a safe space where members of different communities can come together and interact safely and share their stories.
United Nations Mission in Kosovo Deputy Special Representative to the Secretary-General Christopher Coleman also spoke from the position of his longstanding conflict management experience, telling participants: "The conflict among identity groups is almost never what it looks like on the surface".
He outlined four major factors that tended to impede building lasting trust: the shadow of the past which is still present; a wider geopolitical context which is not favourable for building trust; an economy that withholds development; and weak institutions that are not fit for integration, hampered by issues such as corruption, lack of capacity, or unwillingness to integrate. 
Renata Avila, Senior Digital Rights Advisor, World Wide Web Foundation spoke about the potential power of using technological tools such as artificial intelligence (AI) in conflict resolution and conflict prediction.
Understanding trust-building – crossing boundaries of distrust in Kosovo
A second panel, moderated by Head of the Organisation for Security and Co-operation in Europe (OSCE) Mission in Kosovo Ambassador Jan Braathu, focused on the Kosovo context and gave a platform to prominent local voices.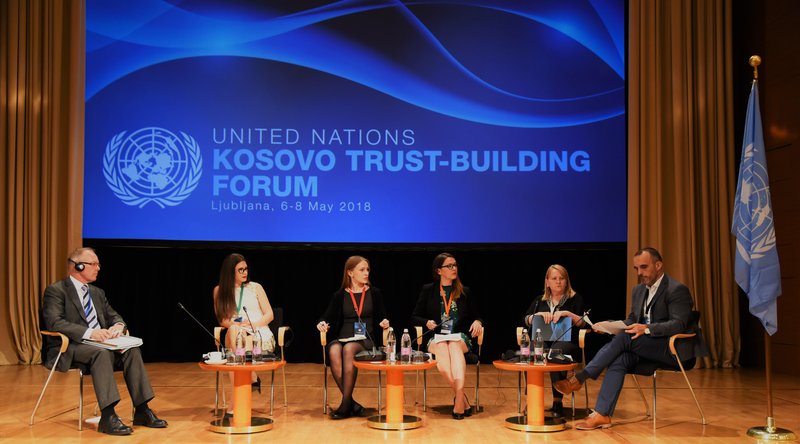 Centre for Research Documentation and Publication managing director Besa Kabashi Ramaj told participants that her centre's research suggested steps towards overcoming perceptions and myths of identity included effective rule of law, better cooperation and coordination between the judiciary and police and further capacity-building.  
"Mostly respondents are driven by myths about each other. However, listing their immediate needs, everyone listed practical demands such as employment, development and equal treatment or equal justice. The three issues that unified all the respondents in their answers are: Openness, Optimism and Trust."
Kosovo Language Commissioner Slaviša Mladenović discussed the role of language in contributing to mutual trust, and how local institutions have a crucial role in the building of trust, especially in the domain of the provision of services in all official languages.
Prominent journalist Una Hajdari, reflected on the particular role of the media in bringing communities together, and the limited collaboration between Serbian and Albanian journalists.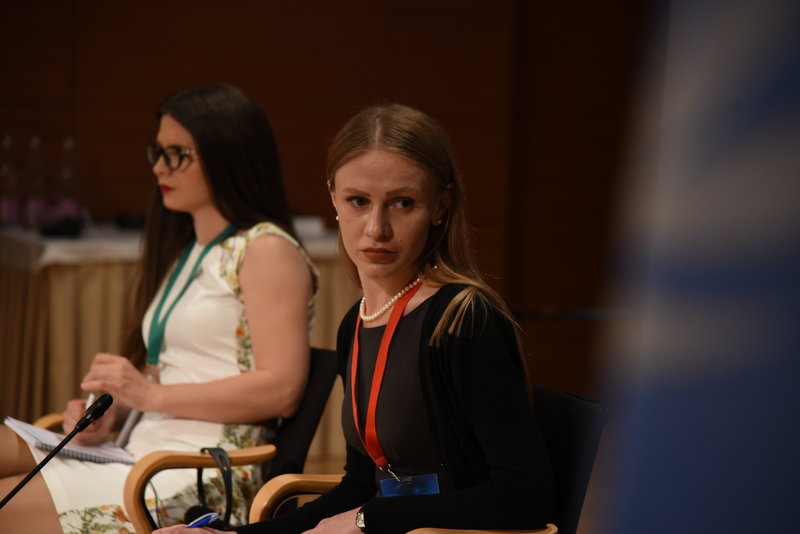 "Being in a society in Kosovo where we are still in the midst of all these processes, that haven't been solved and haven't been resolved, journalist and the media have to be particularly careful of the way in which they report – not because of the ethnic issues, but because of the fact that so much isn't clear yet."
The particular role of women and young people was also addressed. Executive Director of Mitrovica-based NGO Mundesia Hasime Tahiri Hasani, shared experiences of women in civil society helping to build trust and peace.
""The number of women involved officially in the peace-building process are still very low." she said.
"I would also like to mention the vital importance of NGOs in building trust and peace. The most recent project we are implementing is together with an NGO from the north of Mitrovica. The project is an initiative of women in Mitrovica to build trust, which is a positive example how women from different communities gather to discuss their common challenges, like political participation, property rights and economic empowerment."
NGO activist Milica Andrić looked into the future by addressing the lack of faith felt by youth in a peaceful co-existence and the impediment of a continued focus on wartime stories. However, she spoke about positive examples that already exist in Kosovo and sounded a note of optimism for the untold good these could do.
"There is a different context in Kosovo, so now we should be able to start to create different, more positive memories. But for this to happen, those people who lived through the war should also try to remember some of the more positive things that were happening in society before the war."