SRSG Tanin at UN Kosovo Trust-Building Forum: It's Time to Organise the Future, Not Simply to Mourn the Past
About 120 Kosovo leaders, representing a wide range of civic and professional sectors came together under United Nations auspices to discuss avenues of cooperation and joint work to build greater trust between Kosovo's diverse communities, and set forth a platform for future action in multiple fields.  
The two days of intensive meetings and debates, held in Slovenian capital Ljubljana from May 6 to 8, followed two months' preparatory work by Kosovo-based focus groups, covering six main thematic areas: good governance, access to justice, media and communication, economic empowerment and environment, education, and inter-religious trust-building.  Cross cutting issues also included human rights, women's empowerment and youth and language rights.
The forum was organised to capitalise on the enormous capacity and experience that resides in municipal, community, religious, civil society, youth and academic leaders and collectively assess how to improve trust-building between and within communities, the population and its elected local representatives. In strenghtening this endeavour, the United Nations system, together with its partners from the EU and OSCE, can help to channel and coordinate support when appropriate.
SRSG Tanin gives a welcoming address to all participants at the UN Kosovo Trust-Building Forum.
During a welcoming address, Special Representative of the Secretary General (SRSG) Mr. Zahir Tanin stressed that one of the main goals of this forum was to bring people from all walks of life together to identify how, at the grassroots level, they can work collectively to better the society, complementary to the political processes that often seem to draw more media, and therefore public attention.  
He told participants that "We embark together on an initiative to create and define a framework of support for trust building and cooperation … you are the people with the power to make it happen.  Leading with compassion, understanding, and clarity is what is needed to build a better future, a future which can only be shaped by you.  It is time to organise the future, not simply to mourn the past." 
All participants during the opening remarks of the UN Kosovo Trust-Building Forum.
The forum was co-chaired by United Nations Assistant Secretary-General for Peacekeeping Operations Ms. Bintou Keita, and attended by officials from across the UN family of organisations as well as the European Union and on behalf of the OSCE, by the Head of its Mission in Kosovo, Ambassador Jan Braathu.  
The Secretary-General of the United Nations, António Guterres, sent a welcoming message to the opening ceremony, telling participants "You carry an important role and responsibility: to shape the prospects for a genuine and durable peace … as important innovators and catalysts for change, representing a wide spectrum of Kosovo society, including local government, civil society, religious, academia, media, as well as youth and women's groups."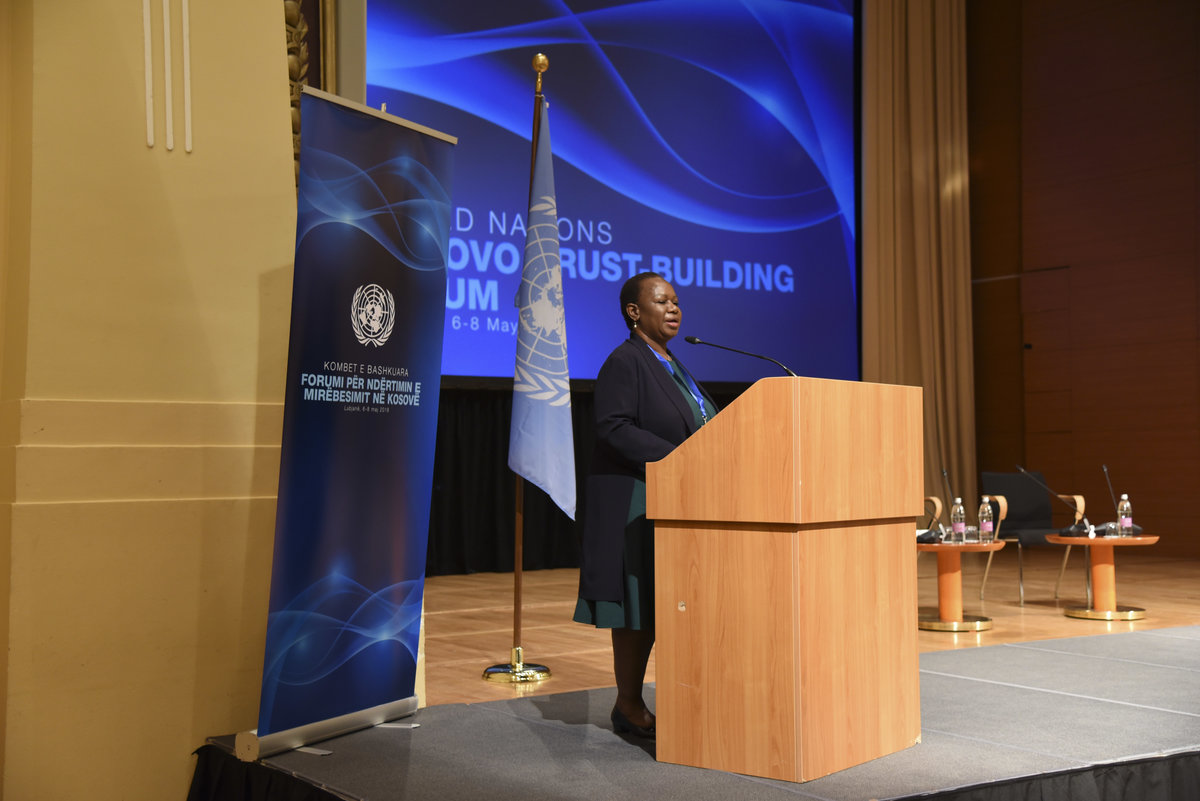 United Nations Assistant Secretary-General for Peacekeeping Operations Ms. Bintou Keita.
Assistant Secretary-General Keita drew an essential connection between the objectives of the Forum and Goal Number 16 of the UN Sustainable Development agenda, calling for peace, stability, justice, human rights and effective governance, based on the rule of law, world –wide.
In each of the six major work areas set forth, participants identified specific goals and proposed coordinated follow-up mechanisms to ensure that the forum marks the beginning of a new and growing web of collaboration among energetic and visionary leaders of Kosovo. This will include a collaborative digital platform through which projects and ideas and initiatives will be jointly tracked and managed.
As part of continuous coverage of the trust-building forum and its related projects and activities, we will publish a series of videos and articles on the panel discussions and focus group working sessions, as well as the forum closing session. 
Read the opening remarks of SRSG Tanin at United Nations Kosovo Trust-Building Forum here:
In English: 
In Albanian: 
In Serbian: 
https://unmik.unmissions.org/srsg-tanin-security-council-session-kosovo-eu-and-grassroots-engagement-important-pathways-forward
https://unmik.unmissions.org/sq/pssp-tanin-n%C3%AB-mbledhj%C3%ABn-e-k%C3%ABshillit-t%C3%AB-sigurimit-p%C3%ABr-kosov%C3%ABn-be-ja-dhe-angazhimi-rr%C3%ABnj%C3%ABsor-jan%C3%AB
https://unmik.unmissions.org/sr/spgs-tanin-na-sednici-saveta-bezbednosti-o-kosovu-eu-i-gra%C4%91ansko-anga%C5%BEovanje-va%C5%BEni-putevi-napred-u
Representatives from the Kosovo government and mayors with UNMIK Head of Mitrovica Regional Office Danilo Rosales-Diaz at a dinner on the opening night.  
From left to right, head of the UN Office in Belgrade Simona-Mirela Miculescu, head of the OSCE Mission in Kosovo Jan Braathu and UN Development Coordinator Ulrika Richardson during the UN Kosovo Trust-Building Forum.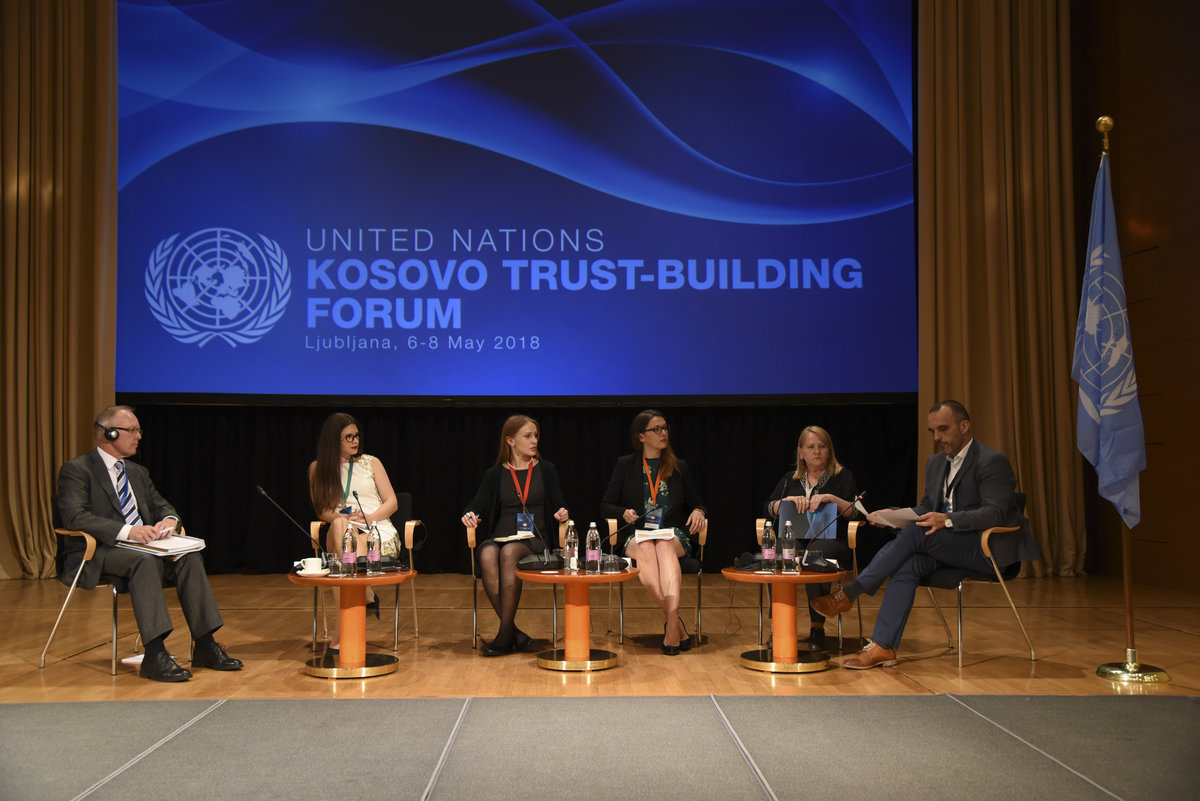 Panelists during the second panel at the UN Kosovo Trust-Building Forum, "Understanding trust-building – crossing boundaries of distrust in Kosovo".
Participants discussing issues in the economic empowerment and environment focus group.
Mr. Matej Marn, Political Director at the Ministry of Foreign Affairs of Slovenia and Director-General for Common Foreign and Security Policy, gives his opening remarks.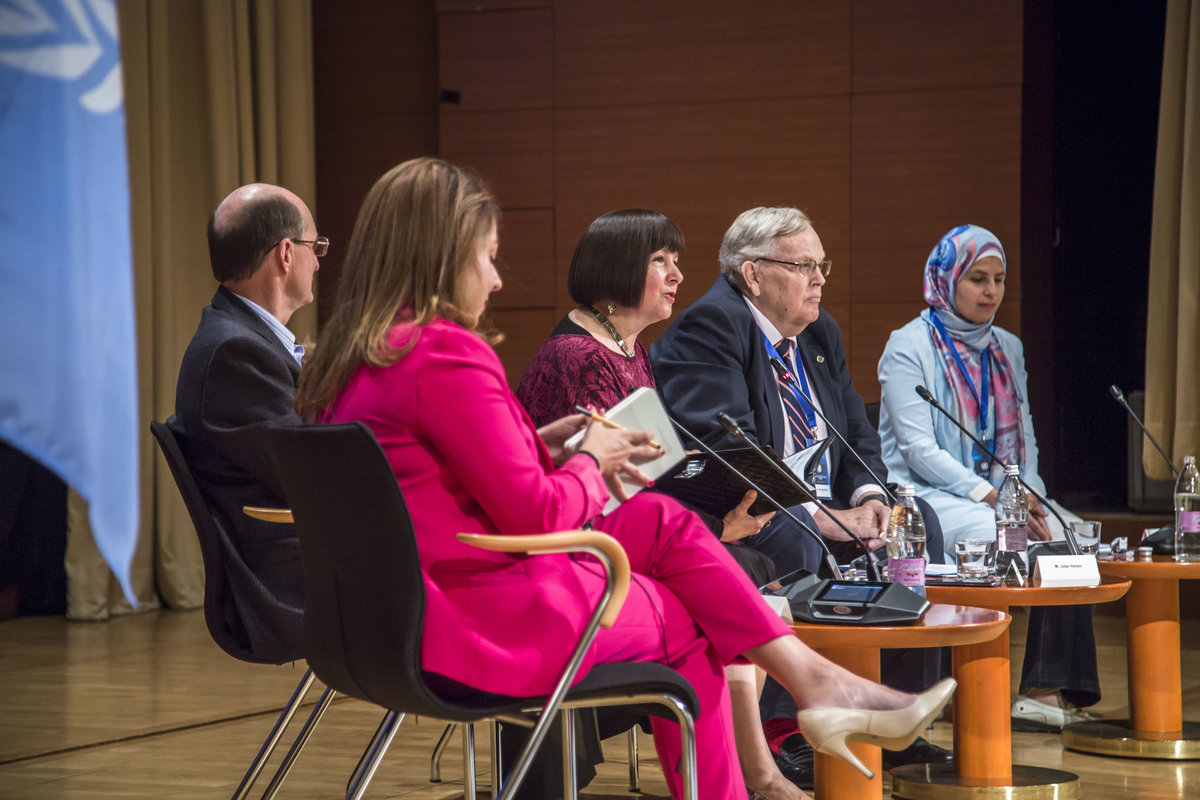 Panelists discuss ideas during the first panel at the UN Kosovo Trust-Building Forum, " Understanding trust-building – crossing boundaries of distrust; global experiences".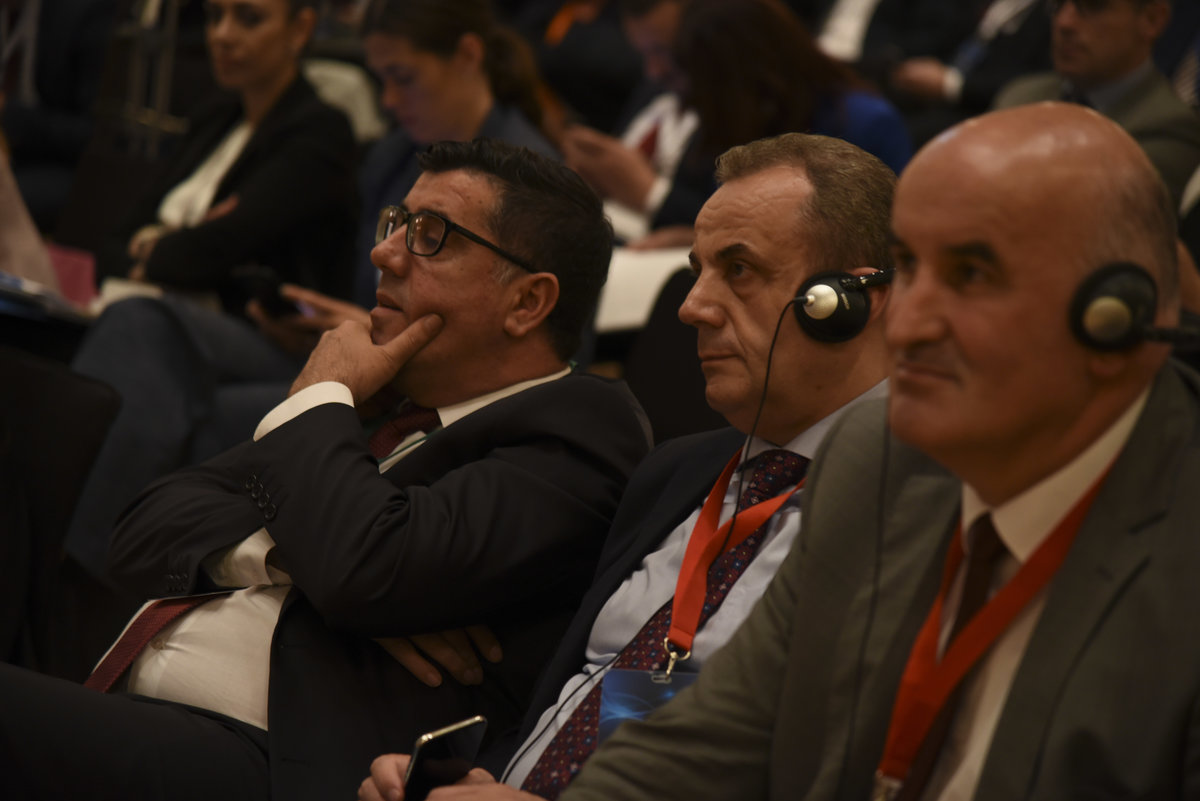 Kosovo political representatives during the panel disucssions at the UN Kosovo Trust-Building Forum.
Co-moderators of the education panel New Social Initiative Executive Director Jovana Radosavljević and UNICEF Kosovo Head of Office Dr. Brandao Co.
Participants of the media and communication focus group in action.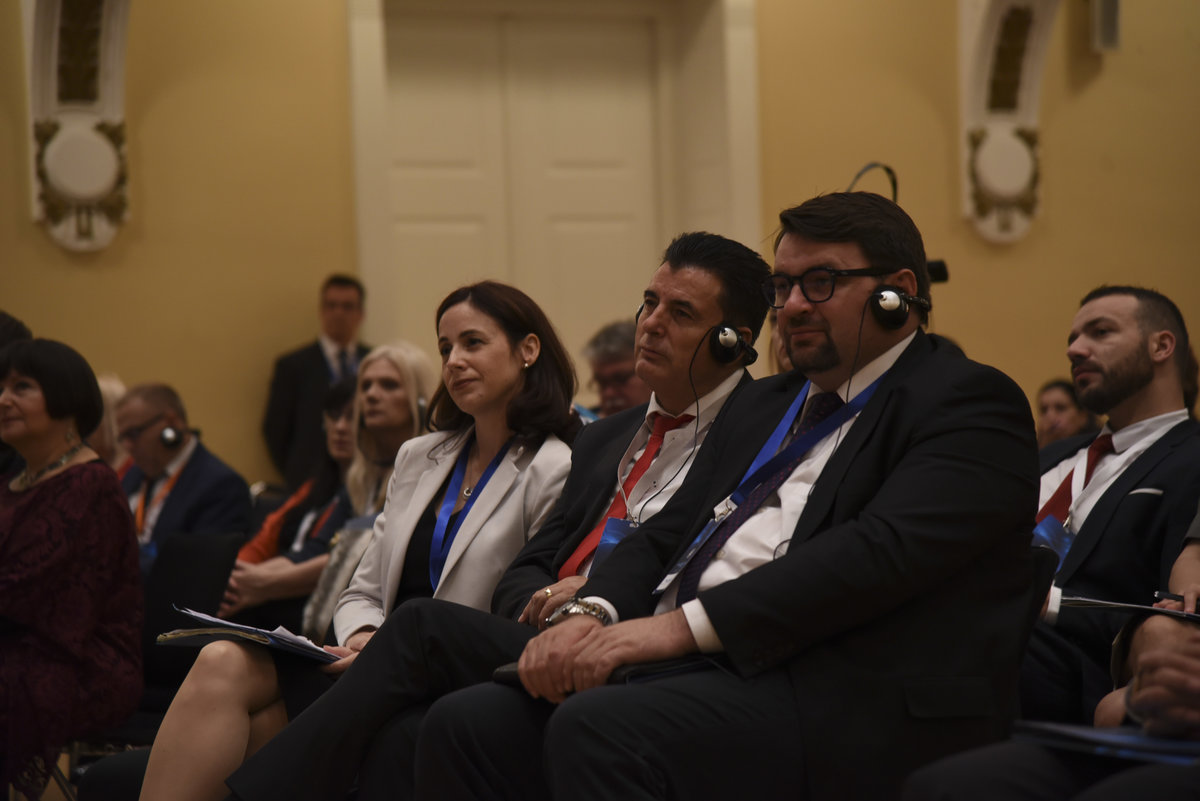 Mayors and representatives from the Kosovo government joined UN staff during the UN Kosovo Trust-Building Forum.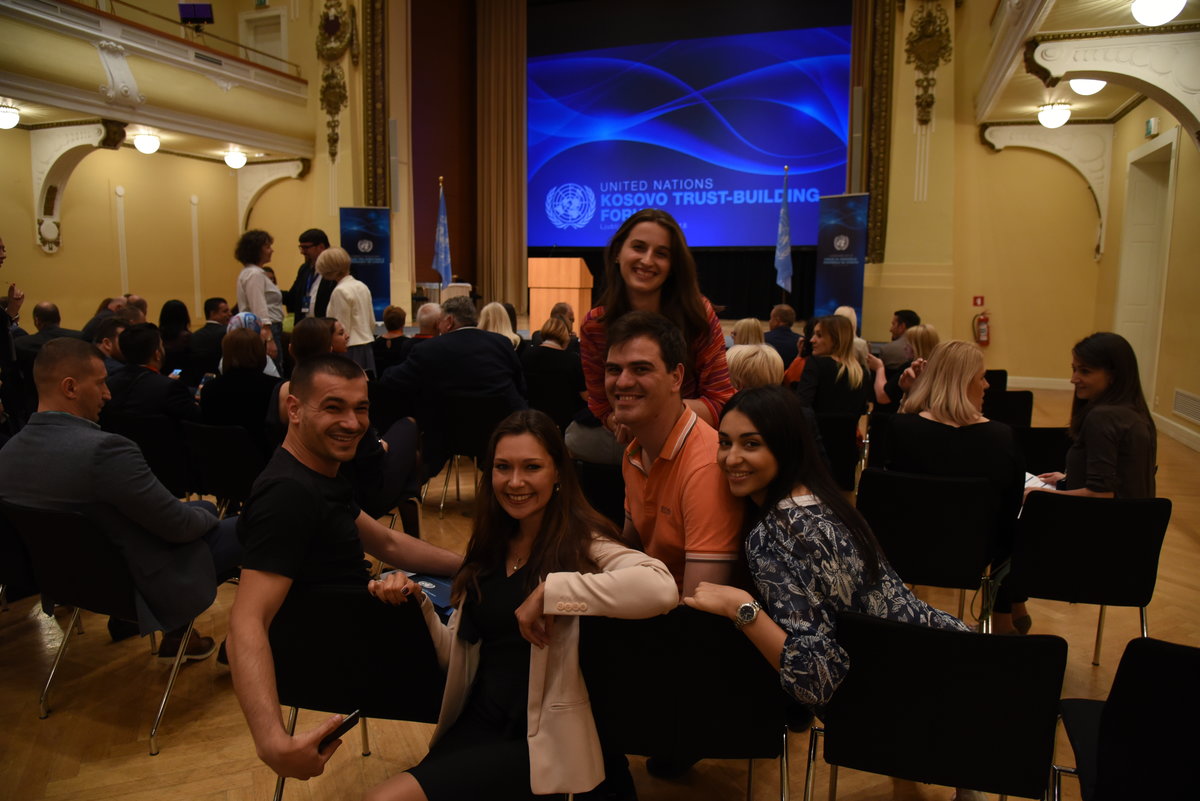 Kosovo youth leaders were some of those participating at the UN Kosovo Trust-Building Forum.