Celebrating Kosovo's Trust-builders: Acknowledging champions of change and their stories
"Trust is built and nurtured through openness towards one another, consistent communication and outreach, genuine cooperation anchored in good faith. These elements combined will allow better understanding and readiness to achieve consensus", said Special Representative of the Secretary-General (SRSG) and Head of UNMIK Ms. Caroline Ziadeh.
In her opening remarks at the Celebrating Kosovo's Trust-builders event in Pristina on 18 May, SRSG Ziadeh addressed close to 100 trust-builders, who gathered from across Kosovo communities to exchange inspiring stories of multiethnic collaboration and acknowledge initiatives that advance the Trust-Building Agenda in Kosovo.
"Change is only sustainable if built from the ground up; building trust requires engaging and actively supporting new and innovative ideas from the community… UNMIK continues to pursue a people-centric approach, focusing on reconciliation and trust-building that is driven by local change-makers," added SRSG Ziadeh.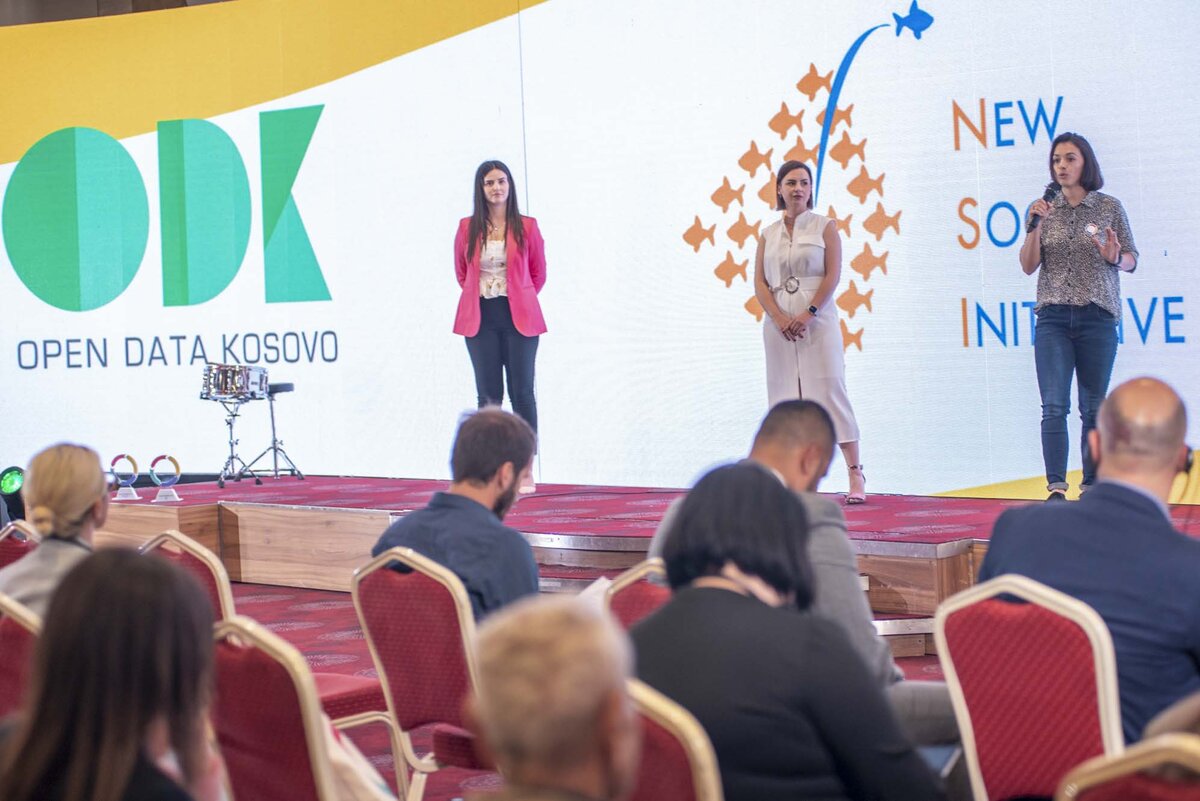 Diellëza Avdyli, Open Data Kosovo, Jovana Radosavljević, NSI, Marija Ivković, Alternativna
A platform to build peace and partnerships
The event, organised by the UNMIK-supported Kosovo Trustbuilding Platform which is managed by three women-led organisations—New Social Initiative (NSI), Open Data Kosovo and Alternativna—celebrated cross-community changemakers. The platform is a first-of-its-kind hub of information on the initiatives, achievements, opportunities, and champions for building trust in Kosovo. 
"The efforts on the Trust-building Platform were stalled by the pandemic, but that time opened doors for collaborations with Open Data Kosovo and Alternativna to make it even better," said Jovana Radosavljević of NSI.
Diellëza Avdyli from Open Data Kosovo has since worked on the design and enabled easy access and registration to the platform, "bringing it closer to the public".
As Ana Marija Ivković of Alternativna pointed out, "We don't look at examples of the work done as a promotion of trust but as enlightening of people who work on trust-building." She added, "We need to learn from them, they are the heroes of trust-building."
Gazmen Salijević, Deputy Minister of Communities and Return
Personal stories: overcoming strife and celebrating success
Speakers from different communities spoke of overcoming multi-ethnic strife and relaying their efforts and success stories in bringing about change.
Among the guest speakers was Mr. Gazmen Salijević, Deputy Minister at the Ministry of Communities and Return, talking about how his life in a "typical Roma family" and their economic struggles pushed him into a life of activism.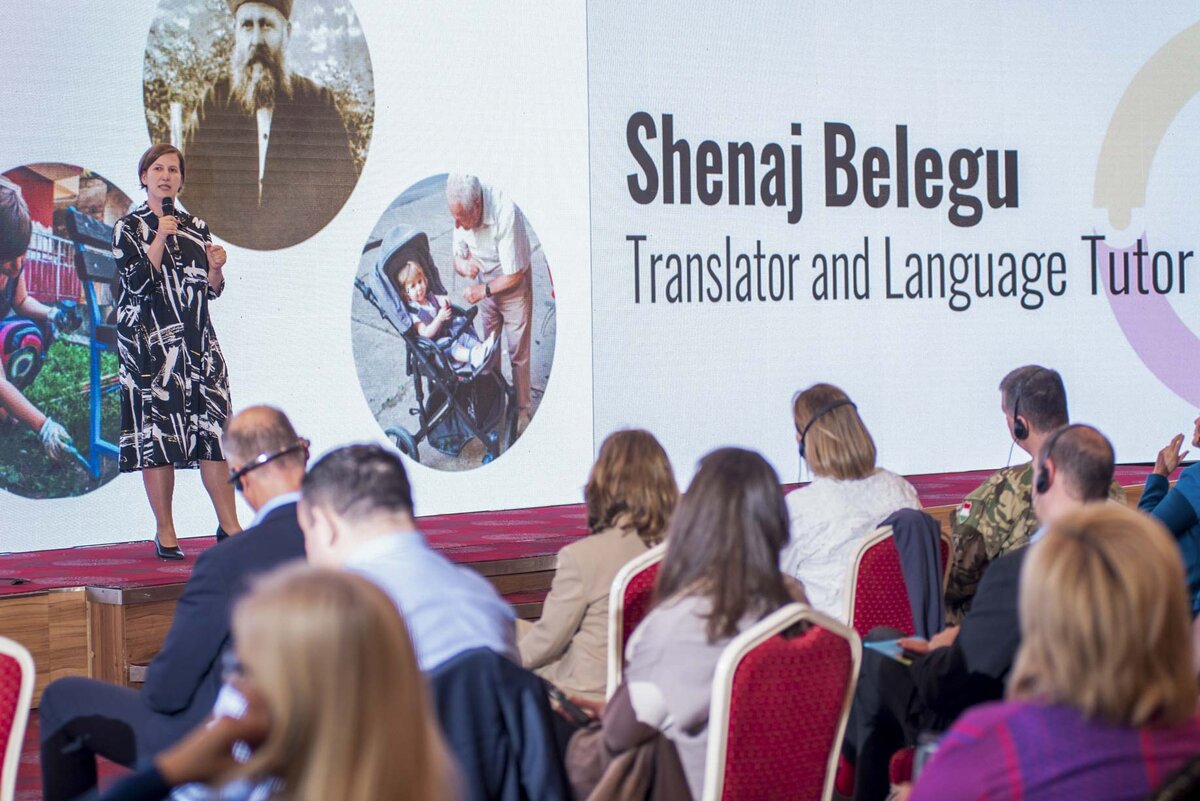 Shenaj Belegu, Translator and Language Tutor
A common thread running through their stories was the role of language as a tool to break barriers and build bridges to create social cohesion. Translator and language tutor, Shenaj Zenali Belegu, narrated the story of her childhood, where though the family had a modest home, their doors were open to people from all communities – the kitchen was a place for debate and conversation, and learning languages of every community was a common feature.
Emina Hyseni, manager and presenter at Radio KFOR delivered her address in three languages, also reminiscing about moving to Pristina from Belgrade with impeccable Serbian language skills and adjusting to learning her mother tongue–Albanian. Eventually, as she joined Radio KFOR, Hyseni is proud of her experience with the station.
Emina Hyseni,  manager and presenter at Radio KFOR
"I found myself transmitting messages of peace, inter-ethnic peace. Many lives changed because of this," she said. "The message I have for everyone is to love each other, understand each other and don't forget to be tolerant," added Hyseni.
Similarly, Veljko Samardžić, Director at Centre for Social Initiatives, which created the UNMIK-supported language-learning Voc-Up platform, spoke of the language as a medium to advance inter-faith and inter-community understanding.
Veljko Samardžić, Director at Centre for Social Initiatives
Belegu also recalled the story of discrimination against an old man in Prizren, abandoned by his family and society. His experience and her interactions with him inspired Belegu to build a network which helps at old age homes. With tears in her eyes, she said, "We are here as a reflection of others – if we shed light, it reflects!"
A lyrical close to the speeches came from representatives of the Zana Literature Festival a literature festival that tackles gender issues through poetry in Albanian and Serbian languages; Miljana Dunđerin who invited all to follow their activities and continue supporting cultural events and Mevlude Skuroshi, who read out her poem about friendship and togetherness.
Miljana Dunđerin, Zana Literature Festival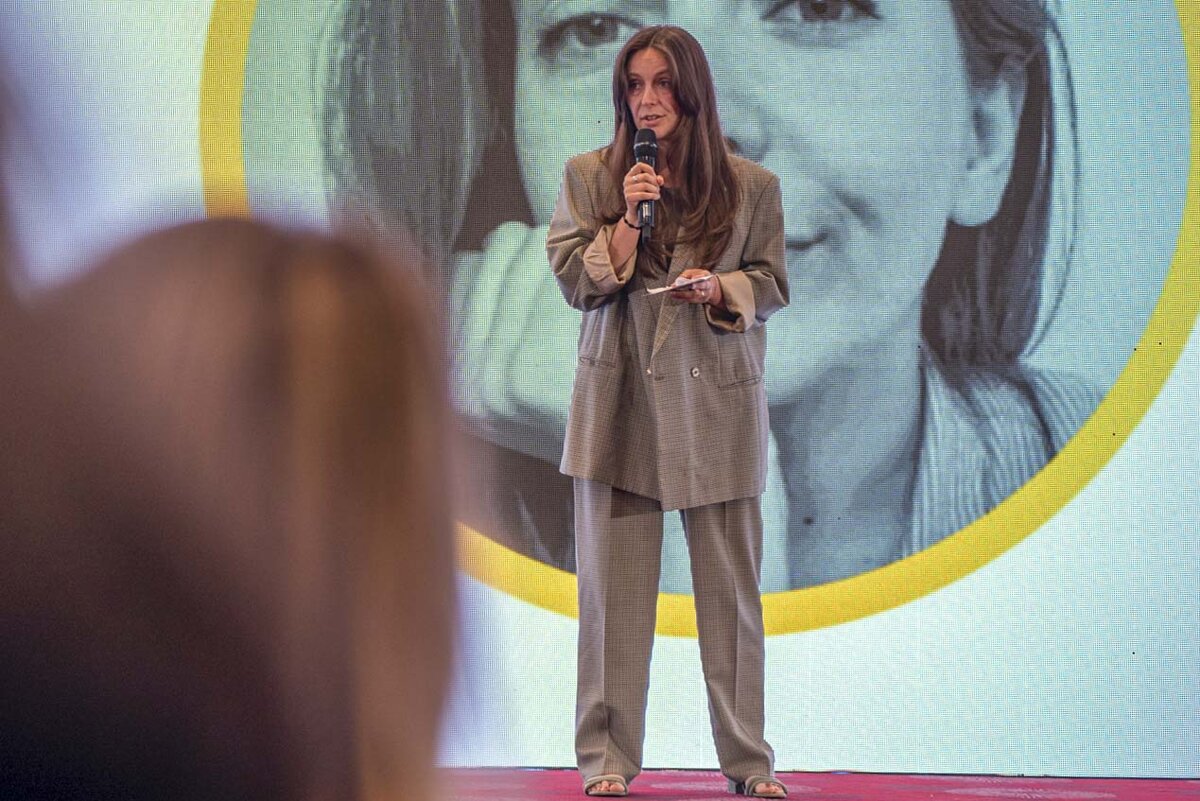 Mevlude Skuroshi,

Zana Literature Festival
Awarding champions of change
The highlight of the evening was the Kosovo Trust Builders (KTB) Awards, celebrating the work of stand-out trust building initiatives across three categories. Here is the full list of winners:
KTB Award for Digital Innovation: Voc-up: an interactive digital platform developed for learning Albanian and Serbian languages online. 
KTB Award for Media: Radio KFOR: a radio station that produces and broadcasts programmes in Albanian and Serbian languages, and promotes stories of peace and tolerance in Kosovo.
KTB Award for Youth Activism: UNITED Youth Task Force: a collective that came together in the spirit of cooperation across ethnic lines to advocate for the improvement of lives of young people in Kosovo.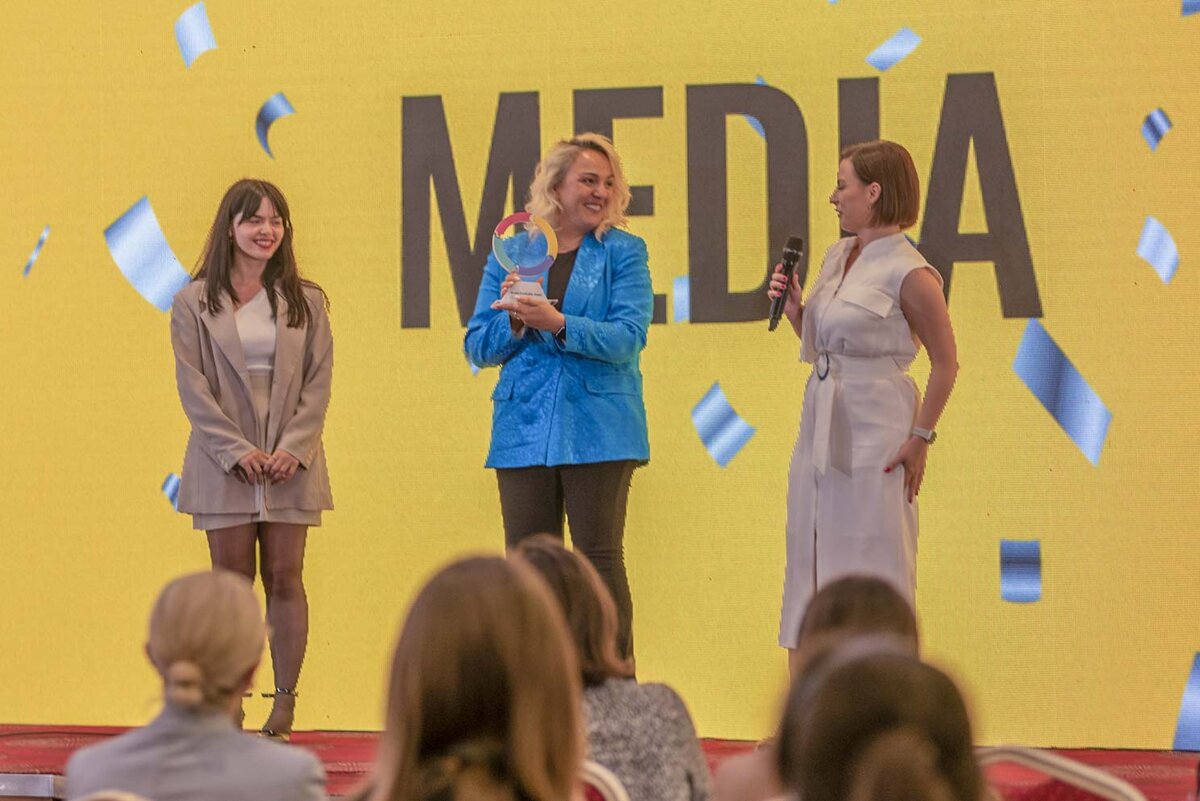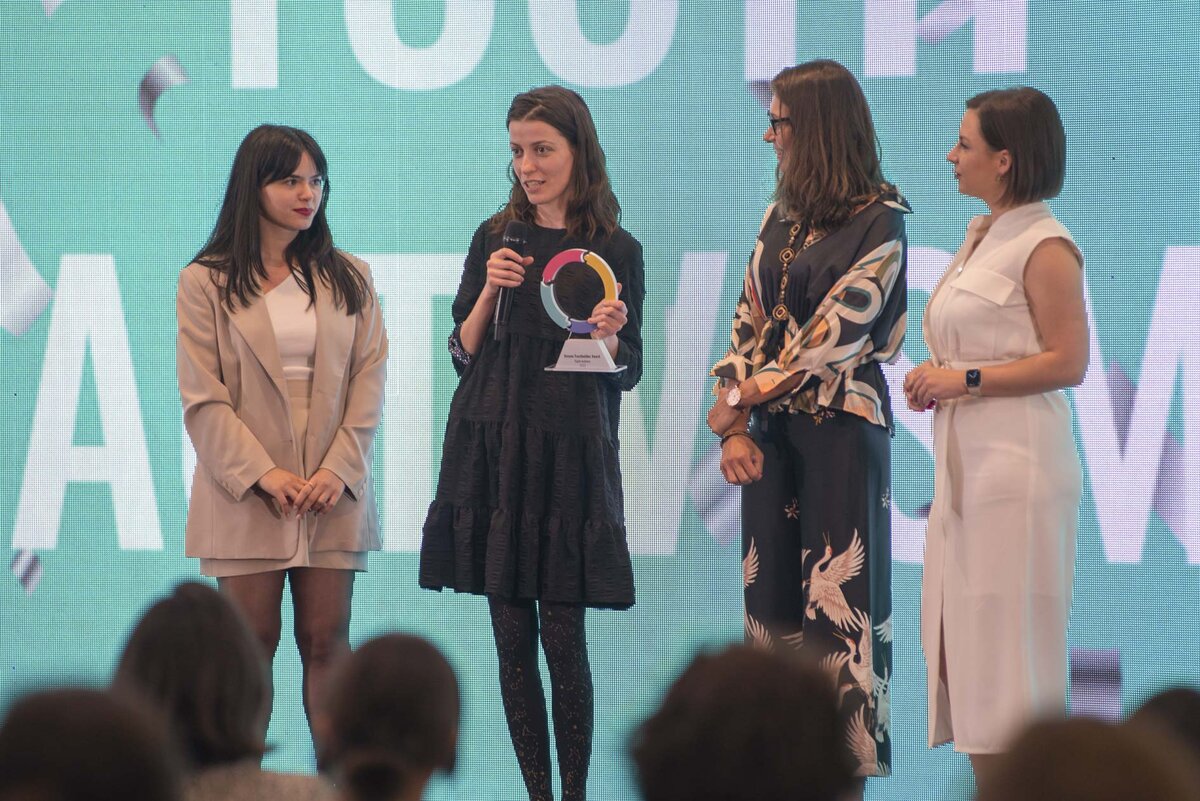 KTB Award for Youth Activism: UNITED Youth Task Force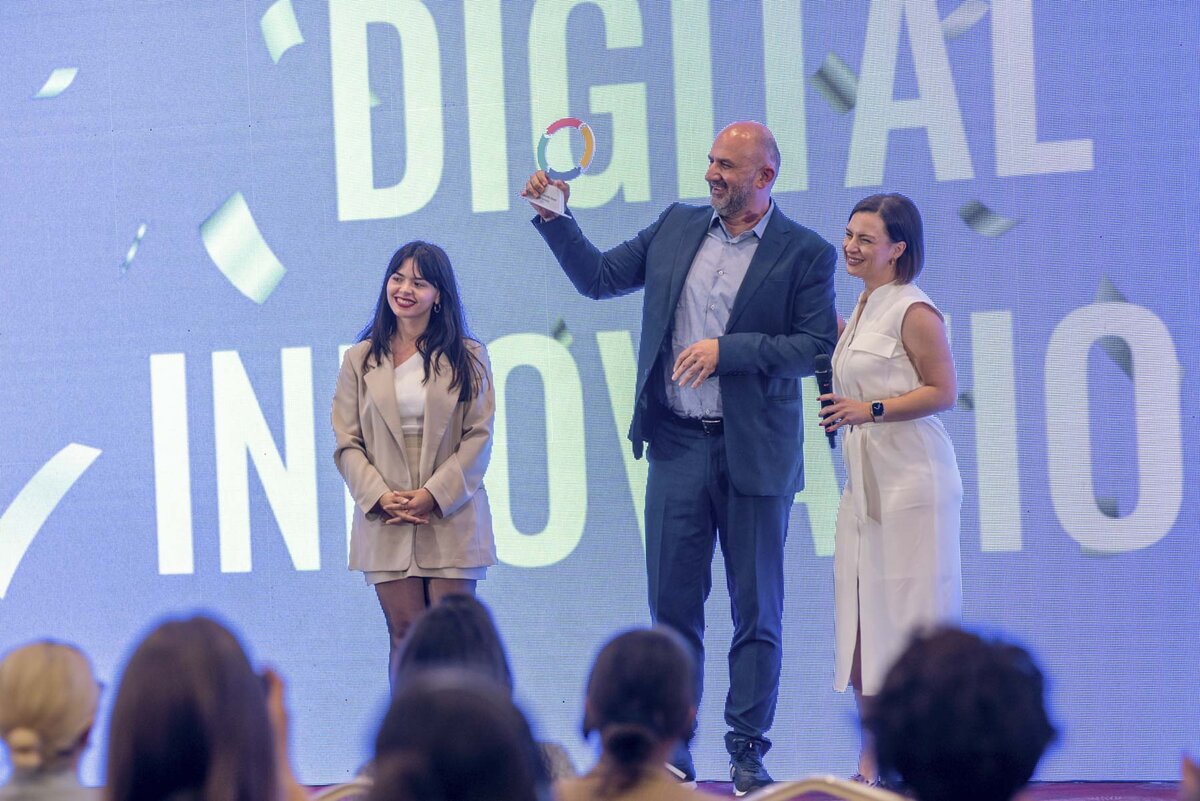 KTB Award for Digital Innovation:
Voc-up