Marching to their own beat: Kosovo's young people with Down Syndrome show why inclusion matters
Medina Surdulli is an accomplished pianist; she loves to Zumba and she works as a therapeutic services assistant. She also lives with Down Syndrome.
"I would like that our community is included in every activity with all the others, and has equal opportunities as all others, to make this world better for all of us," she says.
The 27-year-old was part of a group of about 20 young people living with Down Syndrome in Kosovo who visited the UN Kosovo team and UNMIK Headquarters on UN Day on 24 October, coinciding with Down Syndrome Awareness month.
Down Syndrome Kosova Association (DSK) has been­ spreading the message to ensure inclusion of all communities – a message that is in line with this year's UN Day theme: "Building Back Together for Peace and Prosperity". Special Representative of the Secretary-General and Head of UNMIK Caroline Ziadeh told the visitors their work echoed and resonated with all that the UN stood for, during her welcome to UNMIK.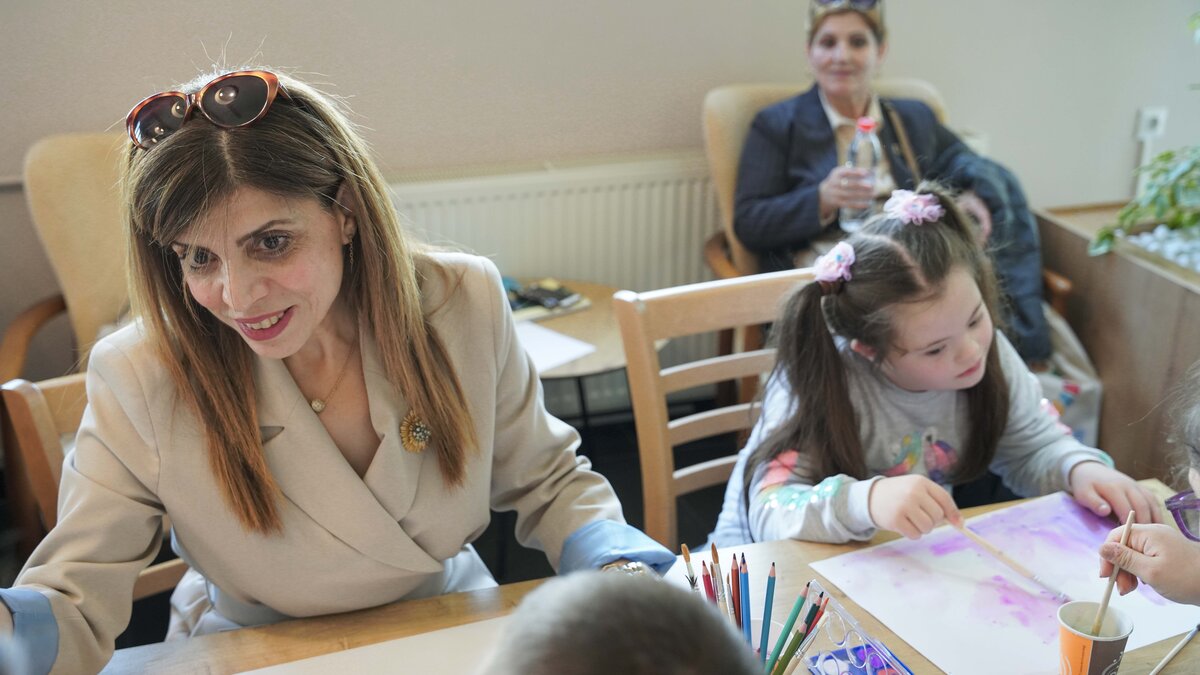 "We stand at the UN for humanity, we stand for human rights, we stand for inclusiveness and we stand for hope," she shared.
The young guests, ranging in age from 5 to 27, explored UNMIK offices, danced with staff, created artwork and ate pizza – with Medina even sharing her musical talents playing several piano pieces.
"I really liked the activities here today and I'm especially pleased that you put so much effort to organize this for us, for all the different activities that we had here today, on this humanitarian celebration day," she said.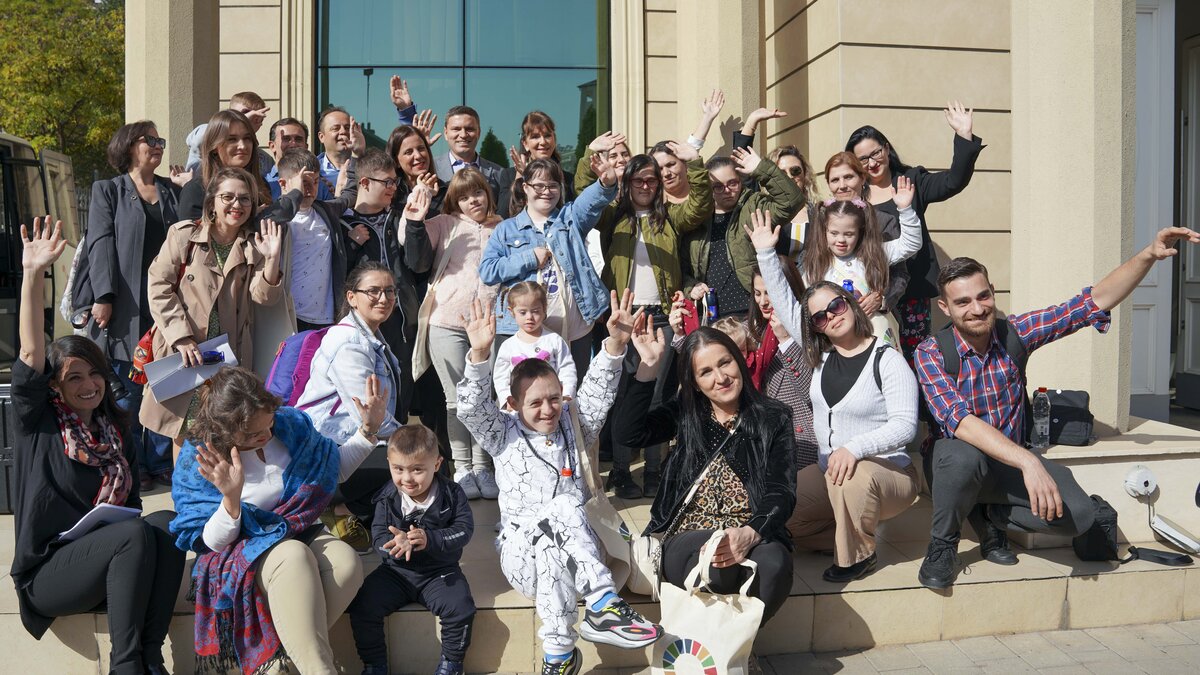 Dionis Ferataj, 23, said he wished for good around the world. The young man, who also lives with Down Syndrome, swung a number of partners around the dance floor – but says he wishes he and his peers had more opportunities.
"I like to be active in sports [and I enjoy] big activities like this [UN Day], and also for my friends who are on their own feet to join in."
The administrative assistant, who works at DSK and for a local energy company, said he appreciated the support given by colleagues and friends.
"I wish for good things for me and honestly, I wish the same for everyone …and my message is for good for all."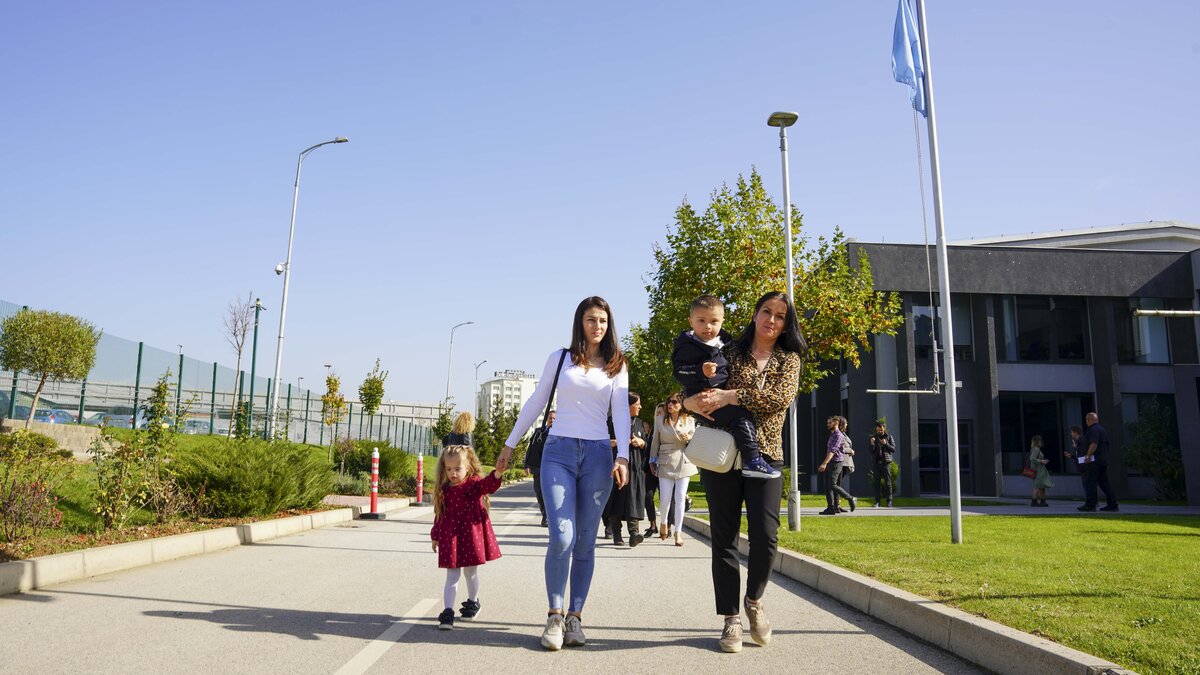 DSK Executive Director Sebahate Beqiri said she was thrilled to be able to conclude their month-long campaign with a visit to both UNMIK and the UN Kosovo Team, the first time the association had had the opportunity to make such a visit.
"The welcome we had from UN representatives in Kosovo motivate us as parents and as representatives of the association, that we are not alone on the journey…we have on our side many institutions and people of good will."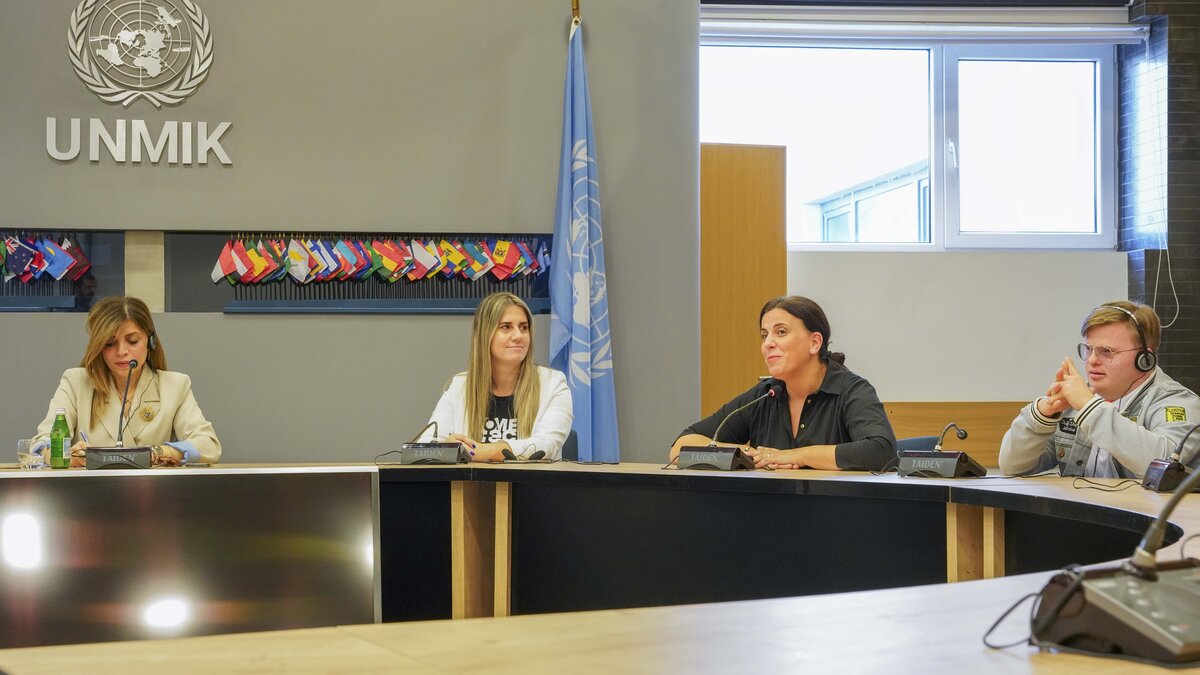 Abetare Gojani is the director of IPKO Foundation, which has been supporting DSK, and joined the visit as part of the foundation's "inclusiveness role".
"Our role is to have an inclusiveness of all children, youth, living in Kosovo, not only with the children with special needs, in this case cooperation with the Syndrome Down, but we work very closely also with the children of other ethnicities in Kosovo."
IPKO Foundation is part of a project to offer trainings on technology and computers in an entertaining way to provide opportunities for development, she said; opportunities that had been warmly received by the DSK young people.
"I believe that their welcoming, excitement is the greatest message for all of us, on how little is required from us to help this group of children in Kosovo to be equal with us, as they actually are."