UNITED YOUTH VS. COVID-19: SIX MULTI-ETHNIC YOUTH TEAMS WIN UN GRANTS TO CHALLENGE THE PANDEMIC
On 7-8 November, UNMIK Youth, Peace and Security programme partnered with UNICEF Innovations Lab Kosovo, NGO "Peer Educators Network" and NGO "United Youth Task Force" multi-ethnic network of young Kosovo peacebuilders to organise a project development workshop called "UNited Youth vs. COVID-19".
At the opening ceremony, UNMIK Deputy Special Representative of the Secretary-General Christopher Coleman highlighted that while the COVID-19 pandemic has disproportionately affected young people, it also emphasized their role in building more resilient communities through tireless volunteer efforts, innovative solutions and cross-community partnerships.
"Young people are the majority.  When you work together, you can achieve great things," DSRSG Coleman said.
While ordinarily, this project competition is a part of the annual United Nations Youth Assembly in Kosovo, due to the exceptional pandemic related circumstances UNMIK and UNICEF launched a special call this year with the aim of championing youth-led solutions to many COVID-19 related challenges here in Kosovo.  
We congratulate the six multi-ethnic youth teams and their mentors who have successfully completed the workshop and won grants for the implementation of their project ideas in the following four areas:
Inter-cultural dialogue, inter-ethnic cooperation and combating stereotypes,

Quality education and vocational training for economic empowerment,

Innovation and technology,

Inclusion of young people with disability.
Winner Teams:
Team 1. UNited Youth Camp [Team origin: Suva Reka/Sukareke, Prizren]: a series of online activities involving young people with disability from different communities aiming at speaking up about their challenges that were aggravated by the pandemic, equipping them with skills in using interactive online tools and raising public awareness on the needs of this specific group.
Team 2. KREATIV [Team origin: Podujevo, Istog/Istok]: a series of youth-led online and in-person educational activities with primary school children from rural areas aiming at fostering their educational opportunities at home and safe return to schools.
Team 3. InclusiviTEAM [Team origin: Pristina, Prizren, North Mitrovica]: A series of online activities with parents, relatives and educators engaged with youth with disability, aiming at equipping them with better knowledge of interactive online tools. By doing so, the project aims at addressing a pressing need of a lack of relatives' and educators' capacity to support the home-learning process for young people with disability.
Team 4. Learn My Language [Team origin: Klokot/Kllokot + Pristina]: A peer-to-peer online course of Albanian and Serbian languages with elements of intercultural learning and introduction to Albanian/Serbian music, poetry and folklore.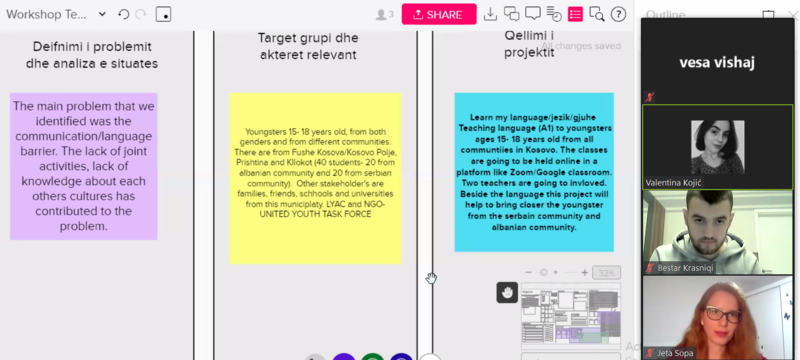 Team 5. Activna Omladina (SRB: Active Youth) [Team origin: Klokot/Kllokot]: A series of activities aiming at providing timely and adequate translation of COVID-19 related updates into the Serbian language, with specific focus on awareness-raising activities in Serbian-speaking primary and secondary schools. The team will also organize creative Albanian/Serbian language-learning opportunities in cooperation with Team 4.
Team 6. Online is Fun [Team origin: Pristina + North Mitrovica] : A series of awareness-raising and skills-building activities promoting interactive, innovative and creative online tools that can be used for learning and networking during the COVID-19 pandemic. Educational videos and materials will be launched in both Albanian and Serbian languages and will target educators, youth workers, youth activists and all interested parties.