UNMIK and UNDP recognised by the Basic Court of Pristina for supporting rule of law in Kosovo
The Basic Court of Pristina recognised the partnership and support of UNMIK and UNDP for the rule of law in Kosovo, awarding UNMIK for the Mission's achievements in the development of judicial institutions.
On 10 May 2022, Caroline Ziadeh, Special Representative of the Secretary-General and Head of UNMIK and Maria Suokko, Resident Representative, United Nations Development Programme (UNDP) visited the Basic Court of Pristina to reaffirm continued partnership and cooperation with the Court and other partners in support of rule of law and access to justice in Kosovo.
"The protection of people's rights and ensuring fair and equal access to justice for all are vital to the functioning of a healthy democracy, and to longer term peace and sustainable development," said SRSG Ziadeh in her remarks.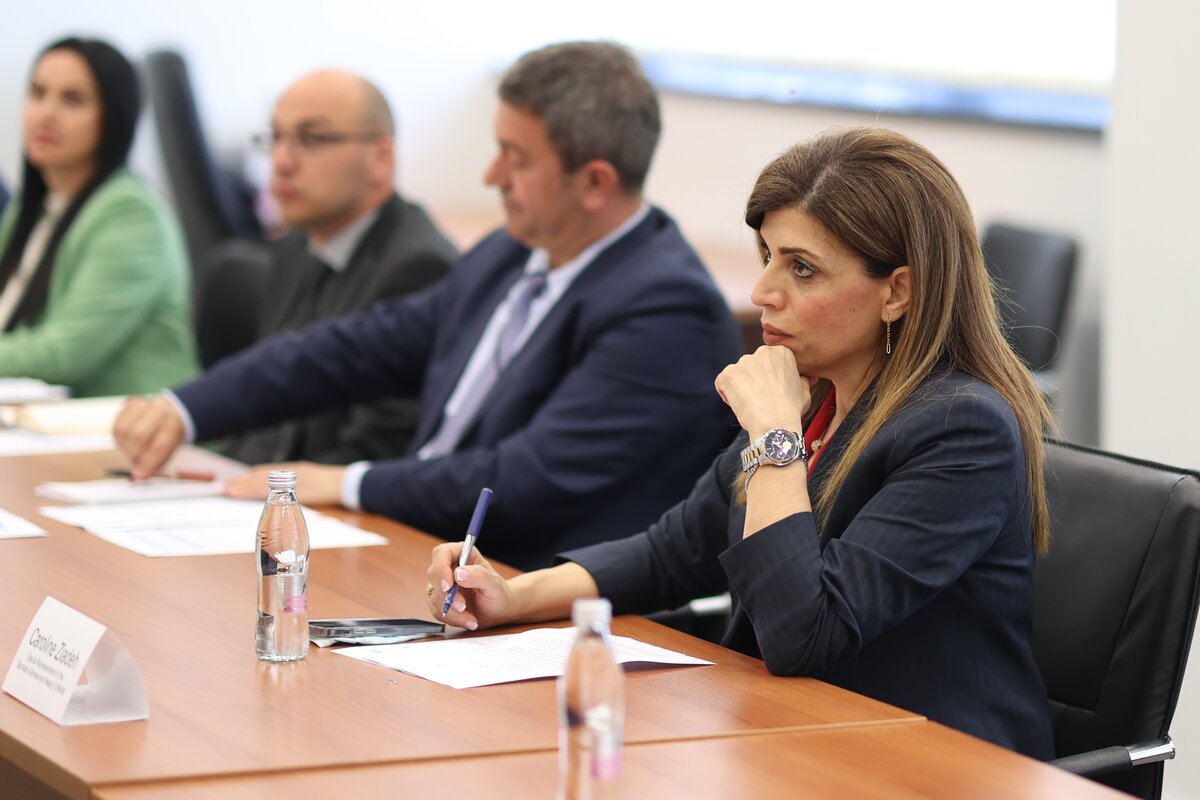 She also highlighted UNMIK's cooperation with the judicial institutions while underscoring the commitment and hard work of the judges and other judicial personnel of the Pristina Basic Court in reducing the backlog of cases. This would not have been possible without the leadership of former Chief Judges and the current President of the Basic Court of Pristina, Ms. Albina Shabani Rama.
As Ms. Rama pointed out, "The cooperation and support of UNMIK and UNDP has enabled our court to be more efficient and transparent. I expect to see this cooperation increasing even more."
Resident Representative Suokko congratulated Ms. Rama in her remarks. "This is the court with the most cases - and accordingly, challenges. I would like to congratulate Ms. Rama and the court staff for having been recently awarded as 'the most transparent court in Kosovo'," she said. "This is a significant accomplishment. We stand ready to support Kosovo institutions in the implementation of the Kosovo Rule of Law Strategy and Action Plan," added Resident Representative Suokko.
Remarks at the gathering were also made by Ms. Maria Suokko, Mr. Mustafe Tahiri, President of the Basic Court of Ferizaj/Uroševac, and Mr. Enver Fejzullahu, Director of the Kosovo Academy of Justice.
The Mission's support is based on priorities identified by the Kosovo authorities and in accordance with UNMIK's strategic objectives drawn from the mandate, to support institutional development and maintain law and order, emphasised Andrea Lako, Chief Justice and Corrections Section, UNMIK. "The UN Kosovo Team continues to be among the closest partners in this support, aimed at enhancing the performance of judicial, prosecutorial, and corrections institutions," he said.