"You are strong": human rights youth leaders tackle discrimination issues during multiethnic conversation
Rooting out discrimination based on ethnicity and gender were the main talking points during a multiethnic gathering of Kosovo's young human rights activists.
The Youth Initiative for Human Rights in Pristina hosted about 30 young people from various communities around Kosovo on March 14, including a number of whom had never had the chance to interact with other communities before. The exchange took place around the screening of an UNMIK-produced short fiction film about a football-crazy 15-year-old Roma girl who learns her parents want her to get married.
"I am from the north, and I am super happy because I never met someone from the Roma or Ashkali communities before, and this movie represented such an important chance and opportunity to think together about how to change and move forward," 19-year-old Kosovo Serb Anđelija Vučinić said, after traveling from Zubin Potok.
Meanwhile, Pristina University student and activist Agon Rexhepi said that representation of other communities was a problem in Kosovo and things could only improve with increased personal exchanges and interactions:
"I have always had a limited perspective of the communities in Kosovo since I only meet with people from Turkish or Albanian communities, and this movie really gave me a broader perspective."
Poignantly, a young Albanian woman shared a moving perspective about how very often in Kosovo when a woman from any community defies the odds and achieves success, she is told "Je e forte" or "you are strong".
"Early marriages are not a single community issue. But if we want to solve it, we have to start with parents - we need to start by sensitising our parents and thinking of how we can take care of ourselves."
This included through ensuring the key message to young women that they are capable, she said.
"All girls can be [told] 'You are strong'."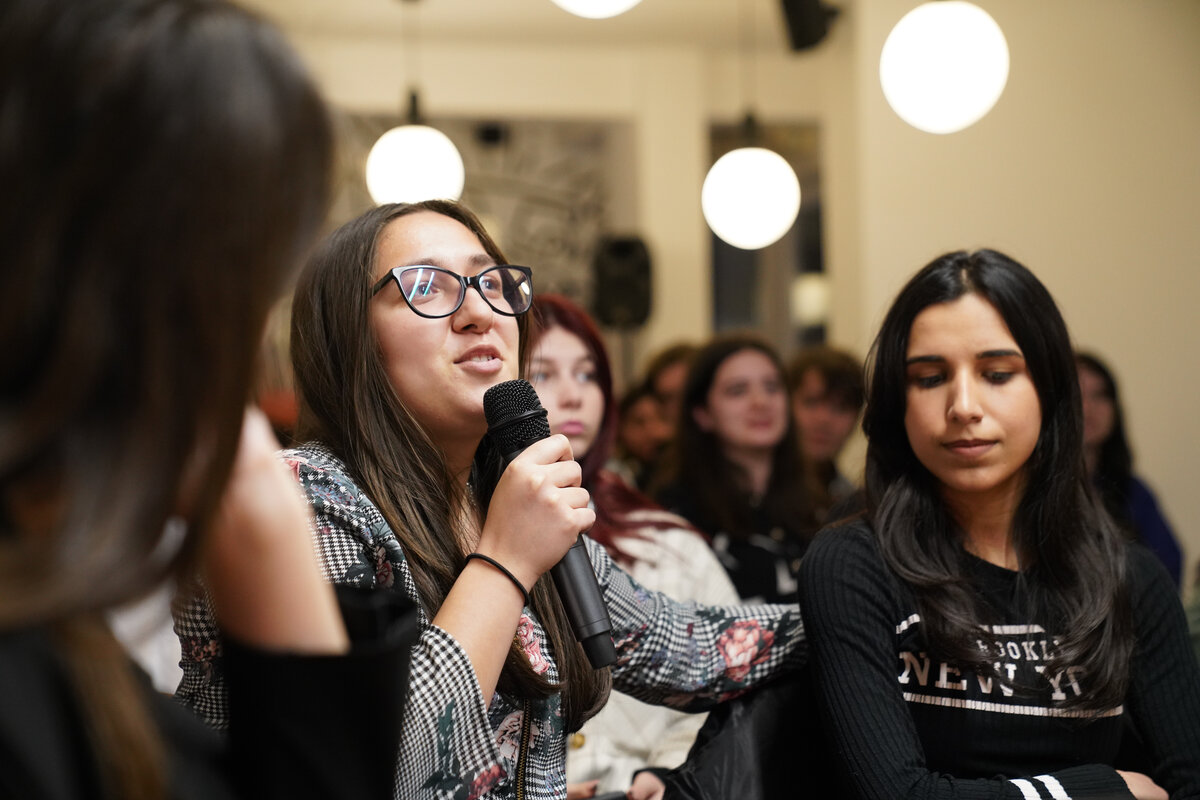 Concerns about 'systemic ethnic discrimination'
The young people also discussed their own experiences of witnessing and understanding ethnic discrimination.
"Making the problem of child marriage a cultural problem is completely wrong - but it happens when you are the majority class and major ethnicity…you think that it is not a whole-community problem, but it is only certain communities," moderator and YIHR communication and programme assistant Uresa Ahmeti said.
She also shared a story about how in her own school days, Roma students were kept in a separate class from the majority Albanian students. This issue came to the fore in her own mind when an Albanian girl was mistakenly put in this class, causing her parents to intervene:
"There was so much discussion and debate about the inclusion by mistake of the Albanian girl in this class, so the key issue of this is the systemic discrimination that we have in our system against certain groups."
Alisan Skenderi, 19, an activist from Pristina's Roma community, discussed the challenges faced growing up for many young Roma people who wanted access to schooling – and struggled to get it.
"Everyone keeps saying 'You should educate yourself'. But education is a right Roma people keep being prevented from. We don't have any rights to education, so when they say 'Educate yourself', it is another way to make fun of Roma. When I was at school I was sitting at the end of the class, and nobody wanted to sit next to me. And if you don't have good teachers, what is the point in going?"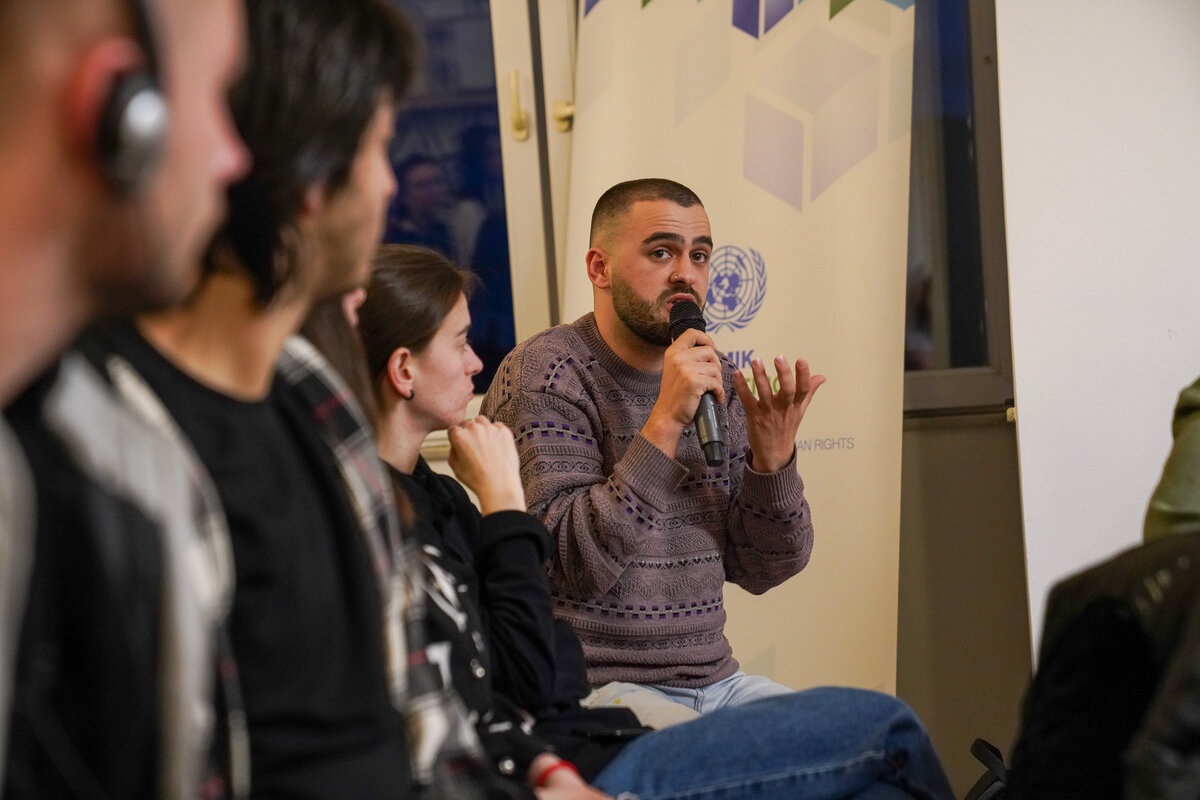 Calls for greater inclusion at the university level
The following day, another discussion along similar lines was held at the University of Pristina with around 20 young Kosovo-Albanian students after they watched the same UNMIK-produced films.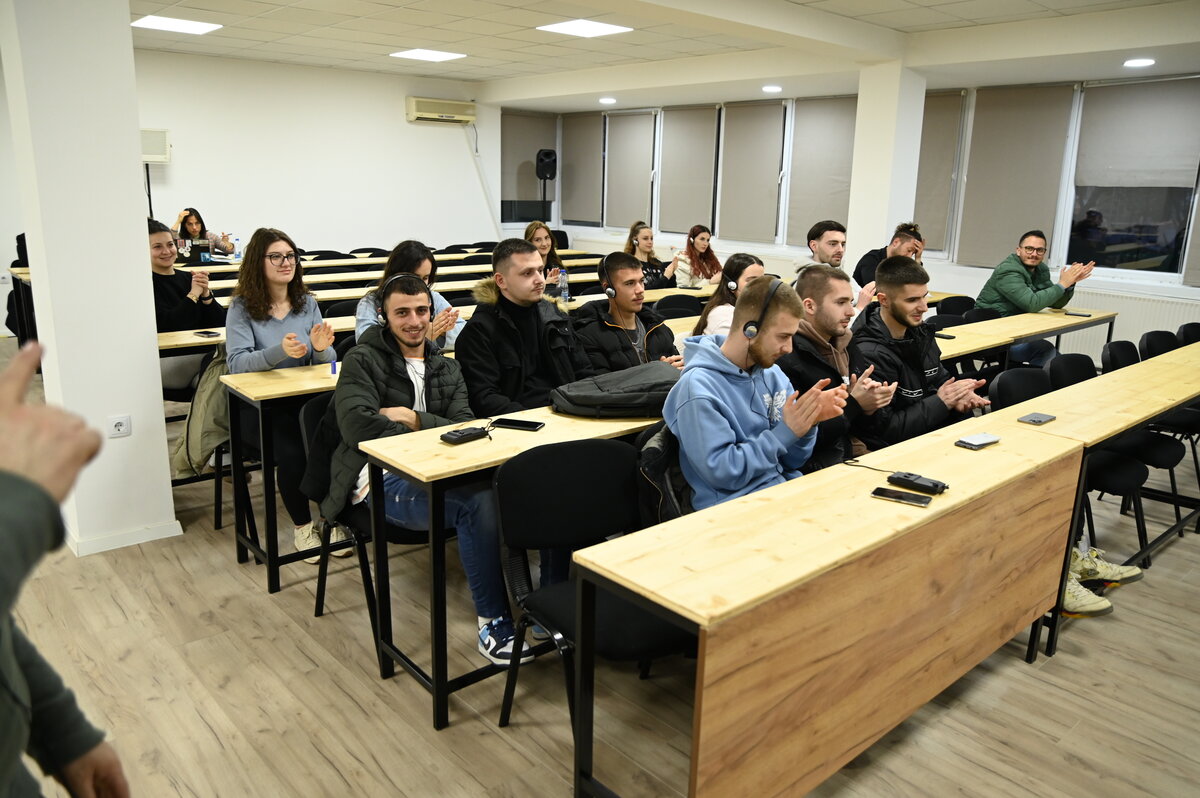 Rrezarta, from the Department of Journalism, said that from a total of 80 percent of young women in this department, only one was a member of the Roma community – and even this young woman had recently left her studies. She called for greater inclusion of young people from non-majority communities in all departments at the University.
"Access to proper education would help prevent early marriages."
 Fellow student Isak Rexha said he shared Rrezarta's opinions, adding that his main concern was about education.
"Lacking education, many negative things can happen. Young people are getting married without being properly developed."