Children in Kosovo shelters helped to continue online learning as domestic violence rates spike
Ensuring children have access to continued learning from domestic violence shelters has been a key challenge during the COVID-19 lockdown – with UNMIK and UN Women ramping up support in response to the 30 per cent spike in domestic violence cases.
Gjakova/Dakovica Safe House director Erblina Dinarama said the pandemic had been a challenge for her team, as for everyone in the world.
"One of these challenges was the continuation of distance learning for children living in the shelter."
Through donations from UNMIK and UN Women, the shelter had been able to continue providing essential support to women and children in need, she said.
Pristina Shelter Director Zana Hamiti Asllani receives the shelter donations from UNMIK and UN Women
Among assistance provided, including clothing, bed linen, hygiene packages and other critical items, are television sets, computers and printers to ensure children present in shelters have access to televised and online schooling and can successfully finish the academic year.
In Kosovo, preliminary reports indicate an increase of 30 percent in cases of domestic violence during the home isolation period.
Gender Adviser to UNMIK's Head of Mission and SRSG Javiera Thais Santa Cruz said the disproportionate impact of COVID-19 on women and girls, including the significant increase in cases of domestic violence around the globe, was also being felt in Kosovo.
"Many women and girls are facing lockdown with their abusers, and support services for victims of domestic violence are needed now more than ever."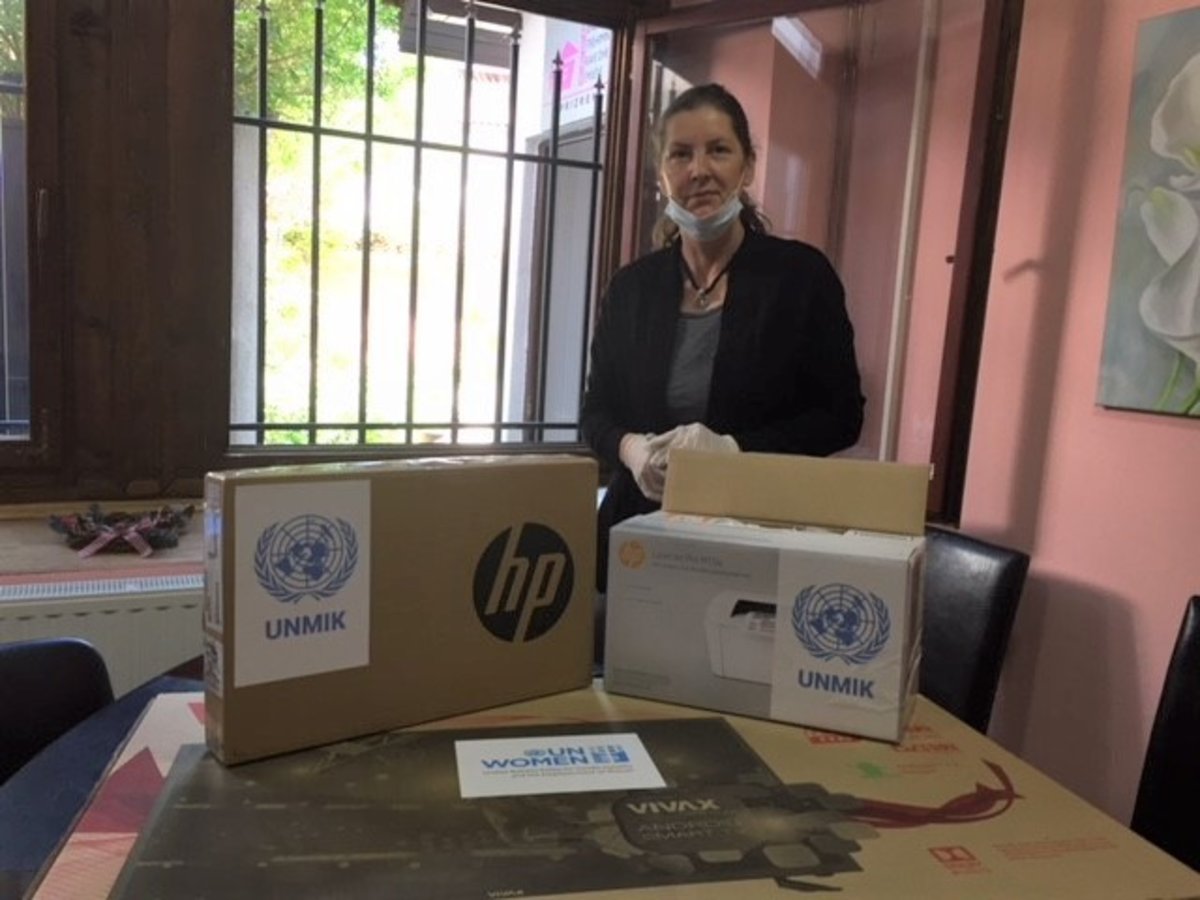 Prizren Shelter Director Jubilea Kabashi receives the and UNMIK and UN Women assistance at the shelter in Prizren
Head of the UN Women Office in Kosovo Vlora Nushi said women's shelters were the best resource for the protection of survivors of domestic and gender-based violence, as the facilities offered psycho-social support, legal aid and emergency medical services.
Aid had been distributed to all shelters in Kosovo, including the children's shelter and the shelter for victims of trafficking, she said.
"We we want to ensure that women and girls have a safe place to stay, psychosocial support and continuous access to education. We will proceed to support municipalities in Kosovo and ensure that shelter services remain accessible to all and operational at all times."