Final Report: 2018 UN Global Open Day on Women, Peace and Security; Focus on Women's Political Participation in Kosovo
On 5 March 2018, the United Nations Mission in Kosovo (UNMIK) and UN Women organized the eighth United Nations Global Open Day on Women, Peace and Security in Kosovo, which focused on women's political participation.
Global Open Day was launched by the United Nations in 2010, with the aim of reviewing the implementation of UN Security Council Resolution 1325 on Women, Peace and Security. Today, Global Open Days are organized worldwide and provide an opportunity for women to highlight their experiences, challenges, contributions and efforts to promote peace and security.
This year's Global Open Day event aimed to raise awareness about on-going challenges and obstacles to women's political participation and formulate forward-looking recommendations to support potential policy and/or legislative change.
Watch a video of the event, including interviews with the participants here:
The event brought together more than 150 women political leaders from the central and local level, government officials, representatives of the international community, civil society, academia, women's organisations and youth activists.
Read about opening remarks of the event and watch SRSG Zahir Tanin's opening statement here

Capturing Women's Experiences from the 2017 General and Local Elections in Kosovo
Flora Macula, Head of UN Women in Kosovo (moderator) and panelists Aida Dërguti, Vice-President of the Assembly of Kosovo (Vetëvendosje), Valdete Idrizi, Candidate for mayor in South Mitrovicë/Mitrovica (PDK), Mimoza Kusari-Lila, Former mayor of Gjakovë/Ðakovica municipality (Alternativa) and Emilija Redžepi, President of New Democratic Party of Kosovo
Women candidates from the 2017 general and local elections highlighted and discussed achievements and challenges with regard to women's political participation in Kosovo in the first panel of the event. All panelists agreed that women who decide to embark on a political journey face higher expectations and double standards, starting from overcoming family pressures, patriarchal values and the daily challenge of proving to the electorate that they deserve to be there – and not due to the quota. Panelists highlighted the need to strengthen cooperation with women's business associations, civil society and decision-making structures at the central and the local level in order to create supporting mechanisms for empowering women and girls.
Tackling Structural Barriers to Women's Political Participation
Ambassador Jan Braathu, Head of OSCE Mission in Kosovo (moderator) and the panelists Luljeta Demolli Executive Director of Kosovar Gender Studies Centre (KGSC), Ajete Kerqeli, Gender Specialist at Democracy for Development, Jeta Krasniqi, Project Manager at Kosovo Democratic Institute and Jovana Radosavljović, Executive Director at New Social Initiative.
The second panel identified key factors that both enable and inhibit women's participation in politics. It explored subjects such as women candidates' access to resources and media, and the extent of support that women receive from political parties. Cultural resistance to women's participation, including the presence of gender discrimination and stereotyping within public discourse and the media were also examined and identified as key barriers.
Review of the Gender Quotas: Still Serving their Purpose or Reforms Needed?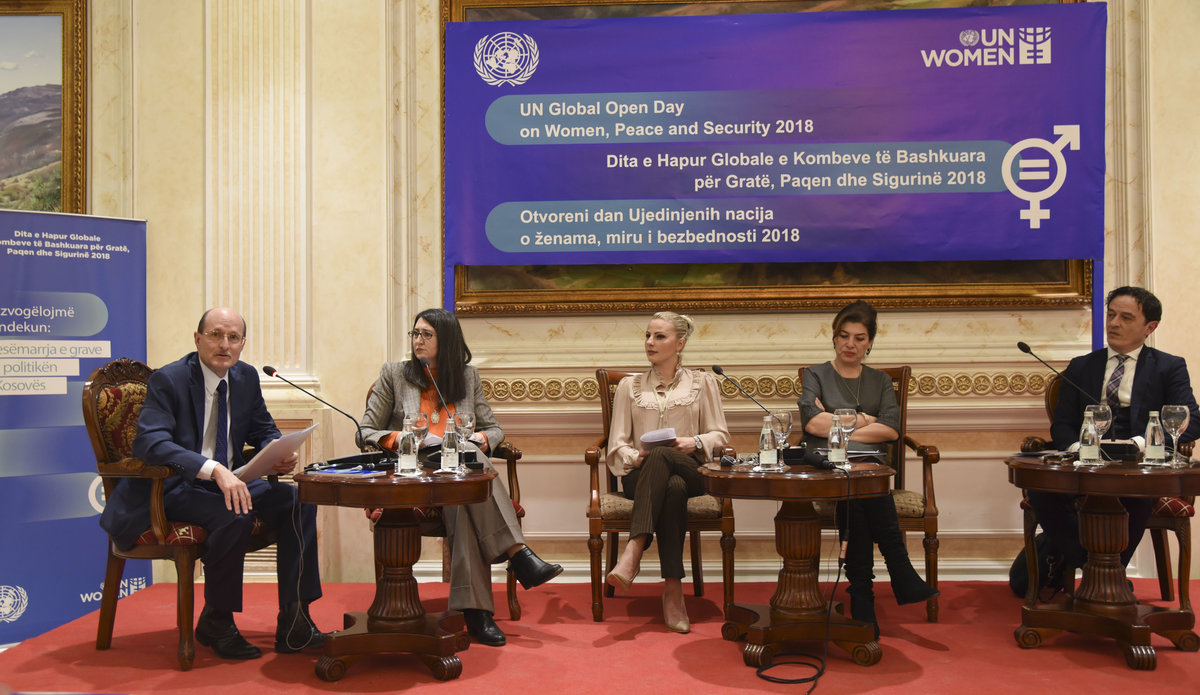 Christopher Coleman, Deputy Special Representative of the Secretary-General (moderator) and panelists Edi Gusia, Chief Executive of Agency for Gender Equality, Duda Balje, Chairperson of the Assembly of Kosovo Committee on Human Rights, Gender Equality, Missing Persons and Petitions, Valdete Daka, Head of the Central Election Commission and Hilmi Jashari, Ombudsman.
This panel focused on quotas for gender representation in Kosovo's election rules. The session touched upon the discrepancies between the Law on Elections which requires at least 30% of candidates in each political party's candidate list to be women, and the Law on Gender Equality, which obliges political parties to take measures to achieve equal representation of women and men. Panelists shared recommendations for future reform of the election laws and encouraged political parties to work upstream and engage young women and men early on in life so that they can develop their political experience and exposure over a longer period and better prepare themselves to enter politics.
Conclusions
The event reaffirmed the belief that the democratization of political parties is key to enhancing women's political participation and emphasized the need for greater political will to ensure that the political climate is free of gender discrimination and bias.
Participants unanimously stressed that more needs to be done to strengthen women's effective representation in politics and decision-making, particularly in senior positions and leadership roles within political parties and the government. Participants also agreed that while a strong legislative framework exists to support women's political participation, increased measures are needed to align the gender quotas set out under the election-related laws with the Law on Gender Equality.
All agreed that there is need for change and that engagement with men and young boys in challenging patriarchal norms and gender stereotypes about women's participation is a critical requirement for achieving such change.
 
Read the final summary report of the 2018 UN Global Open Day on Women, Peace and Security; Focus on Women's Political Participation in Kosovo here: 
The final report in Albanian: 
The final report in Serbian: