Global Open Day: Lasting peace could be achieved through more women in politics
March 22, 2019 – Women in Kosovo could influence more sustainable and lasting peace – but only if they can access high level political processes, women in Kosovo said during a joint United Nations and European Union event marking this year's Global Open Day on Women, Peace and Security.
The seventh Kosovo edition of UN Global Open Day, an event that gives a platform for women in civil society and politics to speak directly to the UN all over the world, took place on March 12, with panels featuring prominent women and men politicians and activists from across the region.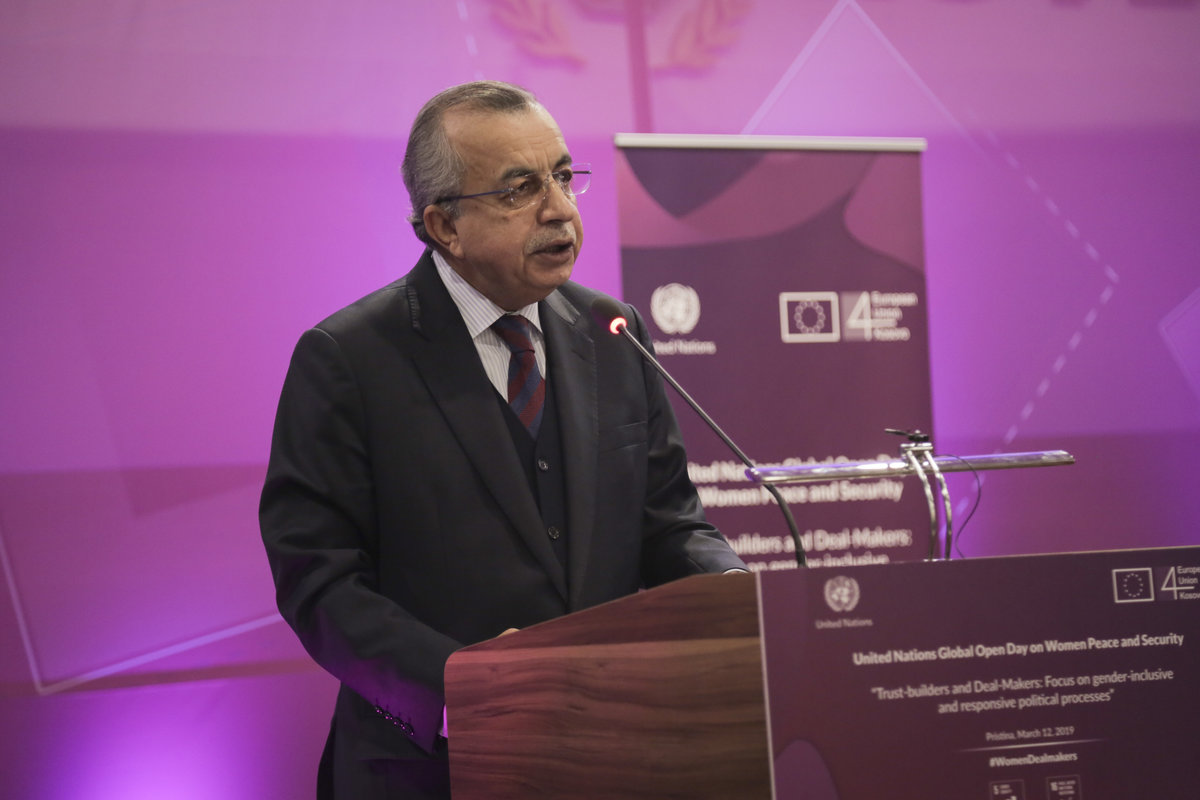 SRSG Tanin gives opening remarks at the beginning of the full-day programme. 
More than 250 representatives from political and civil society institutions across Kosovo attended Global Open Day, hosted at the Emerald Hotel in Pristina under the theme 'Trust-builders and Deal-Makers: Advancing the Women, Peace and Security Agenda in Kosovo'.
The day's keynote speakers and panels put in focus the low number of women engaging in politics and peacebuilding around the world and in Kosovo, where only two out of 21 Ministers are women, no deputy ministers are women and no mayors are women – making Kosovo the lowest performing in the region in the metric of women in politics.
The first panel 'Beyond Words and Numbers', with panelists (from left), Ms Irina Pockova, Ms. Irina Pockova, Regional Women's Lobby for Peace, Security and Justice for South East Europe; Professor Miriam Coronel Ferrer, United Nations Standby Team of Expert Mediators; Ms. Edita Tahiri, former Minister of Dialogue and former Chief Negotiator for the Pristina-Belgrade Dialogue; Moderator Ms. Jo-Anne Bishop, UNMIK Gender Advisor; and Ms. Sonja Licht, President, Belgrade Fund for Political Excellence.
Former Kosovo Deputy Prime Minister and chief negotiator Edita Tahiri is one of the vanishingly small number of women around the world who has been a chief negotiator in a technical dialogue. She spoke during the opening panel, 'Beyond words and numbers'.
 "No society can change a mentality if half of its human capital is not put into the service of democracy, peace and stability. I believe strongly that only by being protagonists as women we can be in power."
Worldwide, only two per cent of chief negotiators and nine per cent of negotiators in a peace process around the world have been women. 
In his recent report to the Security Council, UN Secretary-General Guterres encouraged not only greater participation of women in the dialogue process between Belgrade and Pristina, but also the inclusion of gender perspectives in the implementation of agreements that affect the lives of the population.
On the same panel, long-standing Serbian women's activist and Belgrade Fund for Political Excellence president Sonja Licht said women in the region were not engaged in "key decision-making processes", but without the active engagement of women society would not improve.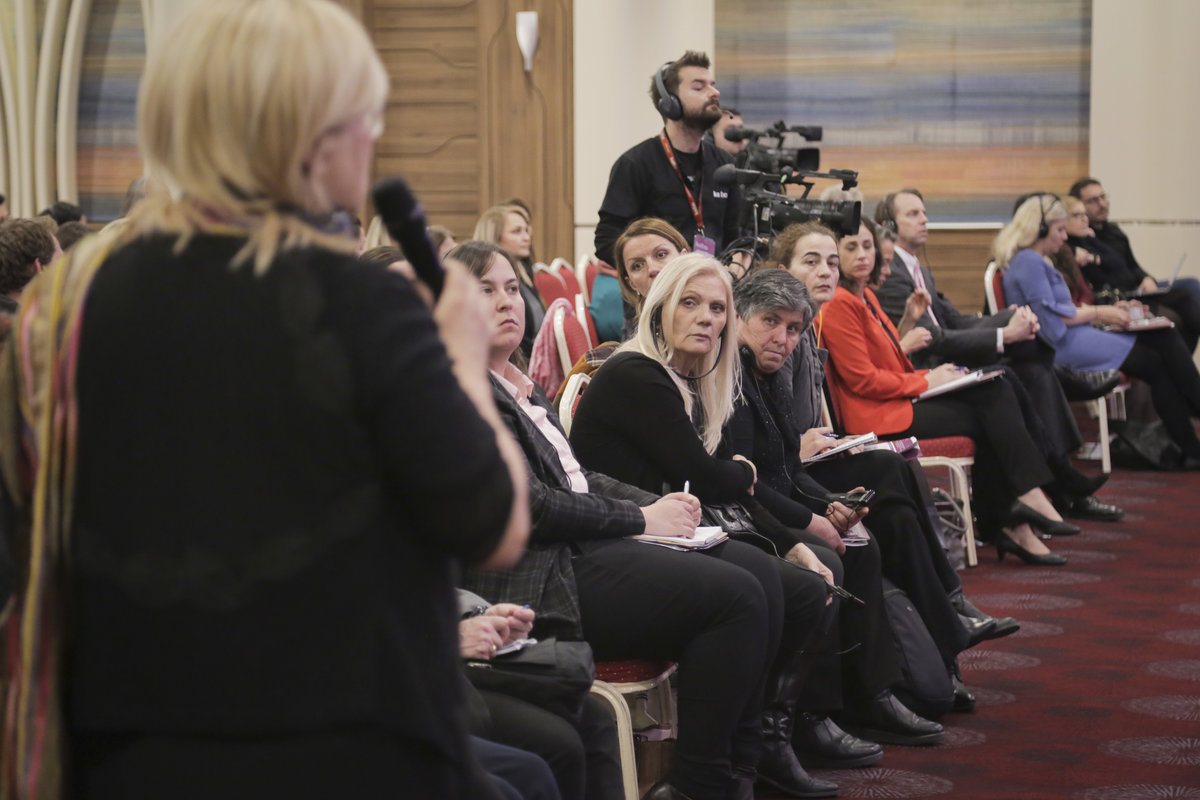 Audience members at the Global Open Day television debate listen to a question by Women's Rights NGO director Ruzica Simic. 
"In my opinion, in many conflicts, not only in the Balkans, the basic cause of conflict was some particular interests, often criminal, and these interests were going against societal interests and interest of women. That is why I was engaged in anti-war movement."
Amongst the impressive list of panelists was the first female chief negotiator in the world to sign a final peace accord, Ms Miriam Coronel-Ferrer, who made history when she negotiated on behalf of the Philippines government with the Moro Islamic Liberation Front. She spoke about the importance of 'Women appointing women' – or WAW – meaning women advocating and lifting other women up once they attain a position of authority.
"It is really important to create a network of movements…what is good with the women, peace and security agenda is that we can bring women with diverse agendas to work on the shared agenda and make it very powerful."
The panel was followed by a further two, moderated by renowned broadcast journalist Jeta Xharra from the Balkan Investigative Reporting Network (BIRN). A televised debate will be screened on RTK.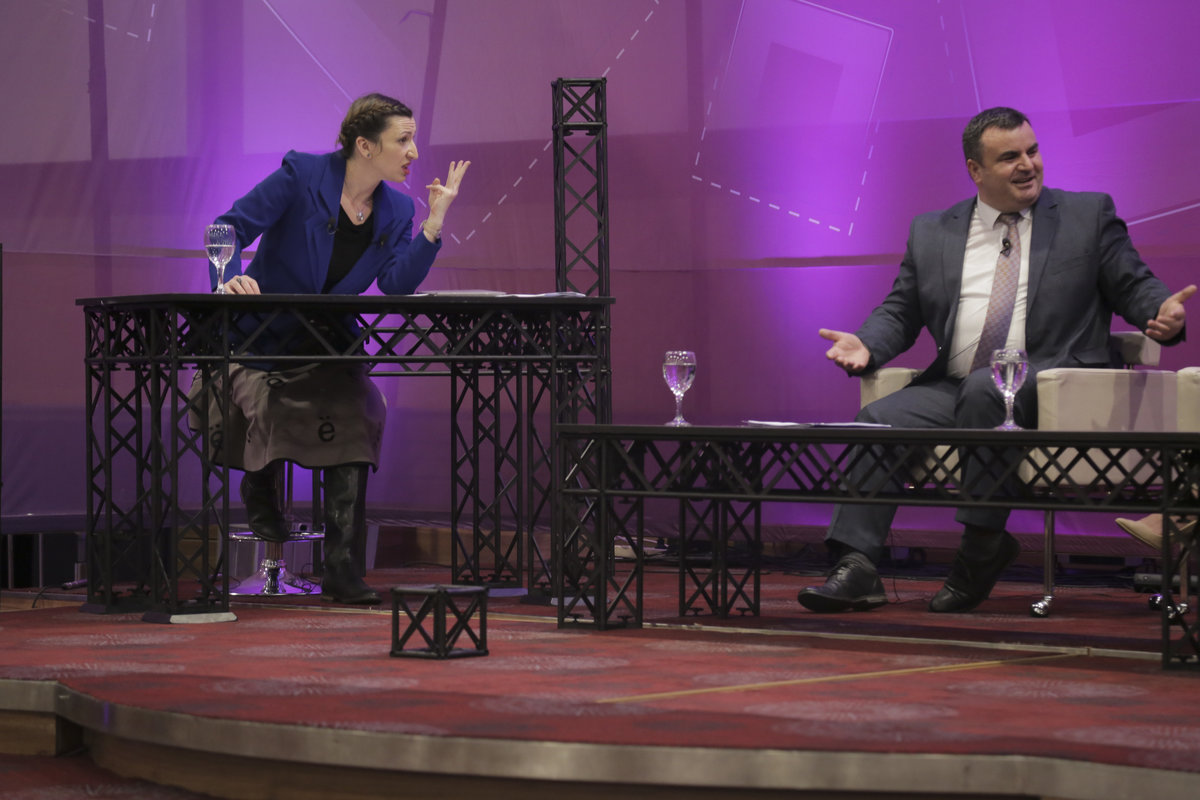 BIRN television debate moderator Jeta Xharra tackles Deputy Minister of Justice Naim Qelaj during the third panel of Global Open Day. 
A series of recommendations were garnered from the various panels, which were followed by a rigorous audience question-and-answer session.
They included suggestions to create a mechanism that will ensure future political negotiations are representative of women's needs and priorities and increasing gender quotas for MPS – as well as implementing sanctions when quotas are not met.
The recommendations will go into a report that will be shared with the office of the United Nations Secretary-General António Guterres, in advance of his annual report on Women, Peace and Security.
United Nations Special Representative of the Secretary-General and Head of UNMIK Mr Zahir Tanin gave opening remarks during the event, during which he said that, as elsewhere in the world, women in Kosovo were the most important part of society.
"Their voices should be heard. Their role should be respected. Their visible and invincible reality should be recognised – not just by good talk and nice statements, but by practical steps."