Human Rights Workshop: Juvenile Justice in Kosovo
Human Rights: Juvenile Justice in Kosovo
On 15-16 June, UNMIK Human Rights Office organized a round table on the protection of the rights of children in the justice system. Judge Renate Winter, a highly experienced specialist in juvenile justice, Vice President of the UN Committee on the Rights of the Child and Judge for the Hybrid Court of Sierra Leone facilitated the two days brainstorming. Representatives of the Assembly of Kosovo, the Ministry of Justice and the correctional services, child rights experts, judges, prosecutors, lawyers, civil society and international organizations participated in the event, which provided them with the opportunity to exchange best practices and explore how to further implement human rights standards in the administration of justice for juveniles and children in Kosovo.
Judge Renate Winter noted that significant advancement in legislation was achieved in Kosovo. However, major obstacles for the protection of children in conflict with the Law remain and are caused by lack of  implementation of the existing of legal framework.
During the workshop crucial  questions have been discussed in relation to juvenile justice. Almost all participants agreed that detention in Juvenile Justice is a measure of last resort.
Miriam Ghalmi, the head of UNMIK Human Rights Office said that juvenile justice remains unaddressed in Kosovo and this is a significant human rights concern. "We managed over the past two days together with judges, prosecutors but also with social workers and representatives of civil society to discuss best practices on how to address the rights of children in conflict with the law  in Kosovo. The main goal of this round table was to formulate joint recommendations to improve the effectiveness of juvenile justice in Kosovo" said Ms Ghalmi. 
UNMIK invited children from the World Vision project "Kids for Peace". They expressed their views about the rights of children in juvenile justice.  "Today in this workshop I have met new people who advocate for a comprehensive involvement of children in Juvenile justice and the protection of children. I felt very good and I am pleased that in Kosovo there are still people that fight for these issues, and this is very  important  for us. "- said Ardina Ahmetaj, member of "Kids for peace" from Sallagrazhde, Municipality of Suhareka/Suva Reka.
According to Judge Renate Winter, "Kosovo is lacking a pool of lawyers specialized in juvenile justice, with lawyers, who are not specialized in juvenile justice, not prepared to defend the rights of children".
The Kosovo Constitution includes clear provisions on juvenile justice and they are in full accordance with the UN Convention on the Rights of the Child. However the main challenges remain the understanding of the implications of such a legal framework and the implementation of the legislation. Ultimately, the goal of the round table was to identify practical mechanisms and best practices to better address children rights in juvenile justice in Kosovo.
UNICEF key principles on children's rights state that "We are not sources of problems; we are the resources that are needed to solve them. We are not expenses; we are investments. We are not just young people; we are people and citizens of this world."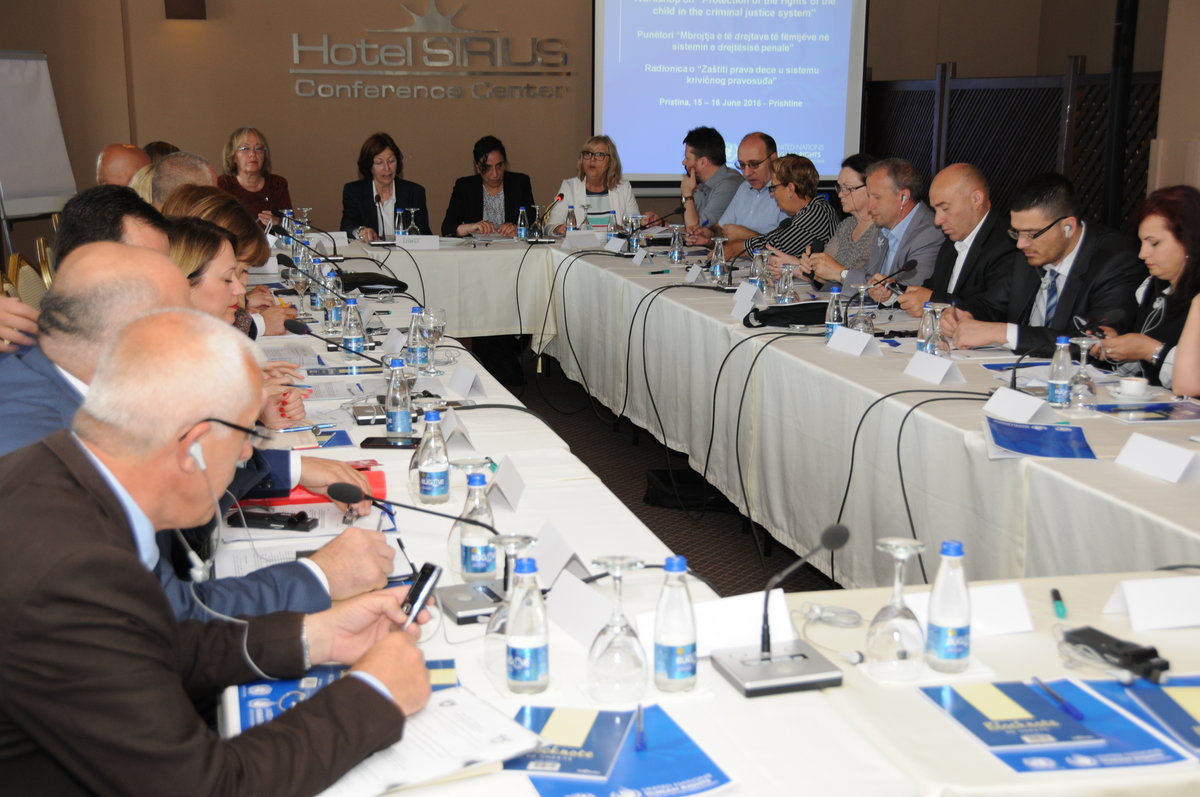 Representatives of the Assembly of Kosovo, the Ministry of Justice and the correctional services, child rights experts, judges, prosecutors, lawyers, civil society and international organizations participated in the workshop - 2016©UNMIK Photo by: Arton Muçolli
Judge Renate Winter,
Vice President of the UN Committee on the Rights of the Child and Judge for the Hybrid Court of Sierra Leone facilitated the two days brainstormin

g - 2016©UNMIK Photo by: Arton Muçolli
Miriam Ghalmi (middle), the head of UNMIK Human Rights Offic
e speaking at the workshop - 2016©UNMIK Photo by: Arton Muçolli
Children from World Vision project "Kids for Peace Filip Dimic (middle) and Ardina Ahmetaj (right) expressing their views about the rights of children in juvenile justice - 2016©UNMIK Photo by: Arton Muçolli