More than a pretty face: Women journalists band together for the winds of change
"One such stereotype is that women are news presenters only, they read news, they need to be beautiful, with beautiful make-up etc. Just today I heard one of the stereotypes. I was told I was emotional during my address to colleagues. If I was a man, I would be brave and bold.''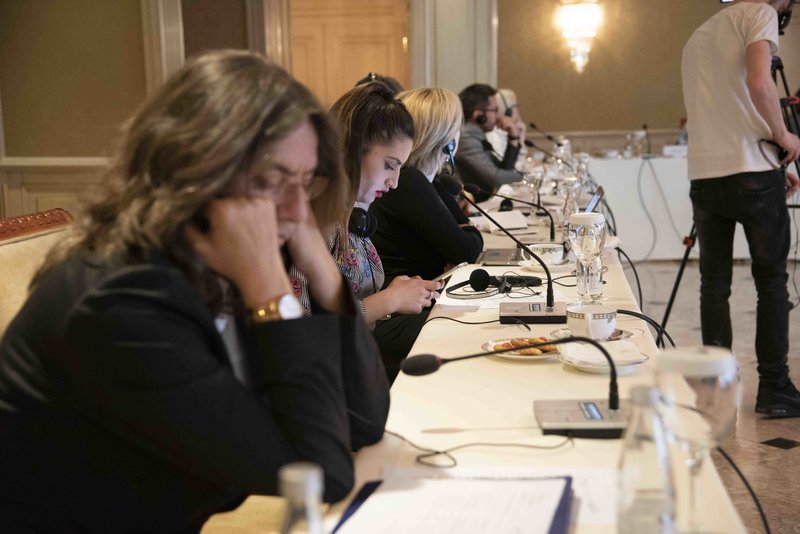 Women have much more to contribute to Kosovo's media than pretty faces to present the news.
This and other issues related to women's access to information and involvement in the media were squarely in focus during several Kosovo presentations of a regional declaration by women in the media to combat gender stereotypes and improve information flow to women journalists.
Seventeen women journalists from different ethnic communities in Kosovo discussed, drafted and signed the Women in Media Declaration in Budva, supported by UNMIK, and presented the document at Pristina's Swiss Diamond Hotel on May 28 and Mitrovica North on June 7.
Kossev portal Editor-in-Chief and one of the initiators of the declaration Tatjana Lazarevic said women journalists were taking the lead to improve the conditions of women in the media.
"I'm an idealist by nature, a woman, so my nature tells me not to deal with things I do not believe in. That's why I am a journalist and that's why the declaration.''
The declaration was intended to tackle women's limited role in the media, but it also sought better and improved cooperation among journalists in Kosovo, she said.
The event was chaired by three speakers, Una Hajdari, Milica Andric-Rakic and Adjelika Cup.  The women remarked on the fact that though statistics showed a lot of women were working in the media there were limited women in decision-making positions – and often those who were in power had someone instructing them on the sidelines.
The women said they encountered longstanding prejudices about women's ability to decide on and prepare serious political content, which made it harder for women journalists to get access to a male-dominated political base. Another common problem noted by the women gathered was the gender stereotypes perpetuated by the media.
Albanian freelance journalist Una Hajdari has encountered the range of such stereotypes.
"One such stereotype is that women are news presenters only, they read news, they need to be beautiful, with beautiful make-up etc. Just today I heard one of the stereotypes. I was told I was emotional during my address to colleagues. If I was a man, I would be brave and bold.'' 
The declaration proposes different measures, some of which can be applied by journalists themselves, while others are intended to improve functioning of institutions.
"In months to come we need to work on raising the quality of our work as well as to determine what is what we need to do to raise the quality of our work towards the institutions," Tatjana said.
As a reporter for various regional media houses, Una Hajdari issued a plea to journalists from across different communities to cooperate together more.
"Although I speak both languages, Serbian and Albanian, when reporting about the latest events, I had to rely on a Serbian colleague from North and her timely and precise information. This declaration is a call to journalists to cooperate and work together.''
Cup spoke of the non-compliance with the Law on the Use of Languages and explained the translation problem in the Kosovo Assembly and the impact it has on journalists who report in the Serbian language. Cup called on her fellow journalists to support their colleagues from Serbian outlets.
The declaration is part of the 'Women in the Media' project supported by UNMIK and implemented by the Center for Community Development from North Mitrovica.