Music Connecting Communities: The Story of Mitrovica's Multiethnic Rock School
In an underground basement somewhere in Mitrovica, five teenagers move in unison to the rhythm they are creating from different instruments.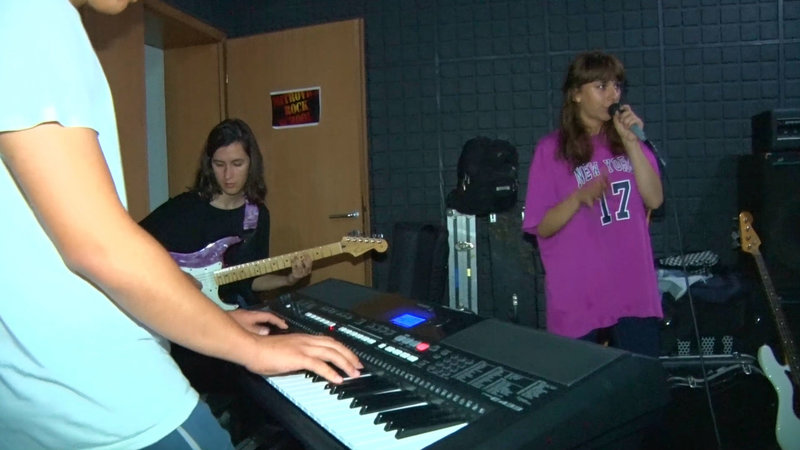 The music is rock music, with the kind of angst typical of some  genres of Balkan music. But what is perhaps more impressive    about the musical synergy is that the band, known as  Proximity    Mine, is the picture of a collaborate Kosovo: the band is a mix of  young men and women from across both sides of the notorious    bridge that crosses the River Ibër/Ibar, Kosovo Albanian, Kosovo Serb and Kosovo Bosniak. Each rehearsal in Mitrovica requires members of the band to go to the other side of the divided town.
Bass guitarist Lazar Mladenovic says life in Mitrovica can be difficult, and the band's music reflects that. 
"The themes of our songs are about life, about life in the southern part and northern part of Mitrovica, in fact everyday life."
Guitarist Tringa Sadiku says she, like many members, had concerns about how the band would work in the early days.
"I was scared in the beginning to come here because I don't speak Serbian and I thought that it would be a problem for me not understanding the language and not feeling connected with the people here. But as I came here, everything was way too fun and easy."
The band is a product of the Mitrovica Rock School programme, which has been supported by international partners including financial support from UNMIK through the Confidence Building Measures Programme. The programme teaches musical instruments to interested youngsters in the city.
Proximity Mine, who perform in English, are one of the greatest success stories of all the 41 bands that have formed since Mitrovica Rock School began in 2008.
Project Manager Emir Hasani says using music as a tool has been the Mitrovica Rock School's method of uniting communities after the divisions that ensued.
"I think it's the purest and most sincere way to get people together – to create things."