Mr. Zahir Tanin, Special Representative of the Secretary-General and Head of UNMIK, welcomes the condemnations and expressions of concern by Kosovo's leaders regarding recent ethnically motivated incidents. SRSG Tanin further states "there is no place...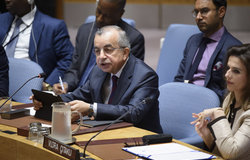 14 May 2018 - 14 May 2018, New York – Wider regional engagement and a renewed EU focus on Belgrade and Pristina represents a unique opportunity to move past a stalemate in relations, the head of the United Nations Interim Administration Mission in Kosovo told the Security Council today. The...
26 Mar 2018 -

Today's developments in Kosovo are unacceptable. I call on Belgrade and Pristina authorities to act with good will, to avoid provocation and to take the steps necessary to maintain peace and human security. The responsibilities of leaders to their constituencies demands...
16 Mar 2018 - 16 March 2018 - Having been informed on the plans to amend the Criminal Code of Kosovo, members of the Security and Gender Group (SGG), as of October 2017, were engaged in preparing and submitting comments and recommendations for amendments to the Criminal Code. We express our...