2023 UN Youth Assembly participants are here – and ready for more
"The biggest problem is that young people are not included in the decision-making, in politics, and have no right to express their opinions, especially in small communities," according to Anja Matović.
Matović was one of the approximately 150 participants who came together from around Kosovo and the region, including Albania, Bosnia and Herzegovina, North Macedonia, and Serbia, for the fifth UN Youth Assembly.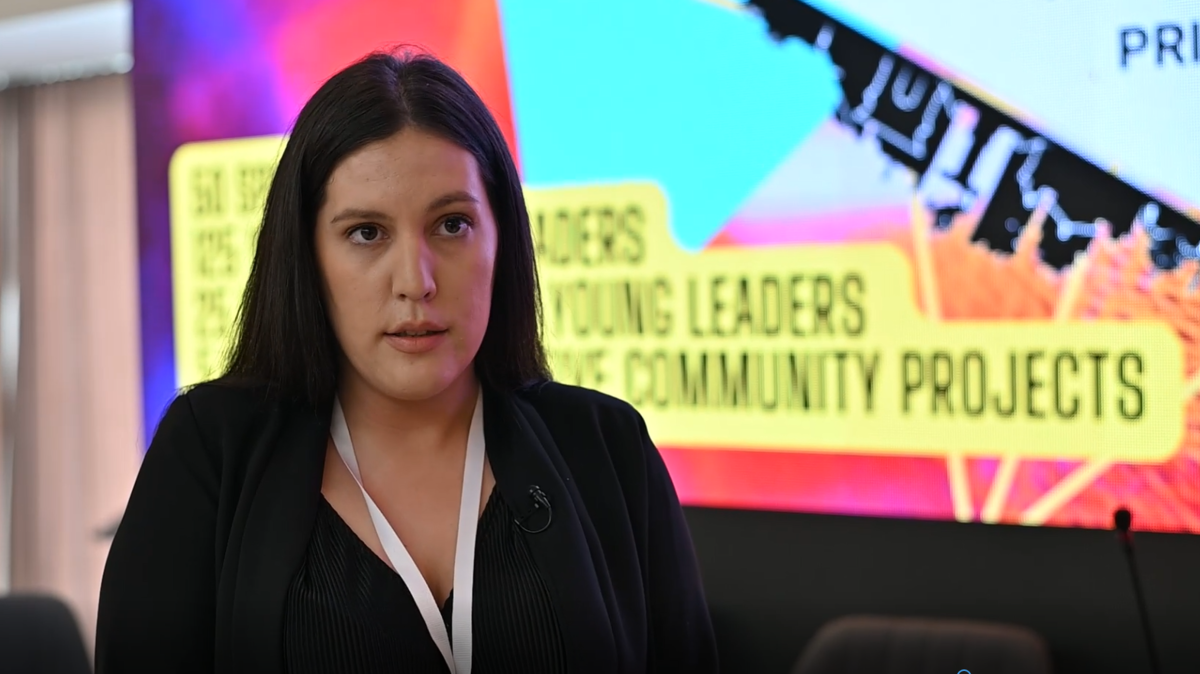 Organised by UNMIK and its UN sister agencies in Kosovo, the 2023 Youth Assembly, held on 7 and 8 June, had three specific goals: (i) to contribute to the Kosovo Youth Strategy, currently being developed; (ii) to establish closer cooperation between young leaders in Kosovo and the Western Balkans, including those with disabilities; and (iii) to develop projects targeting young people to receive UN support.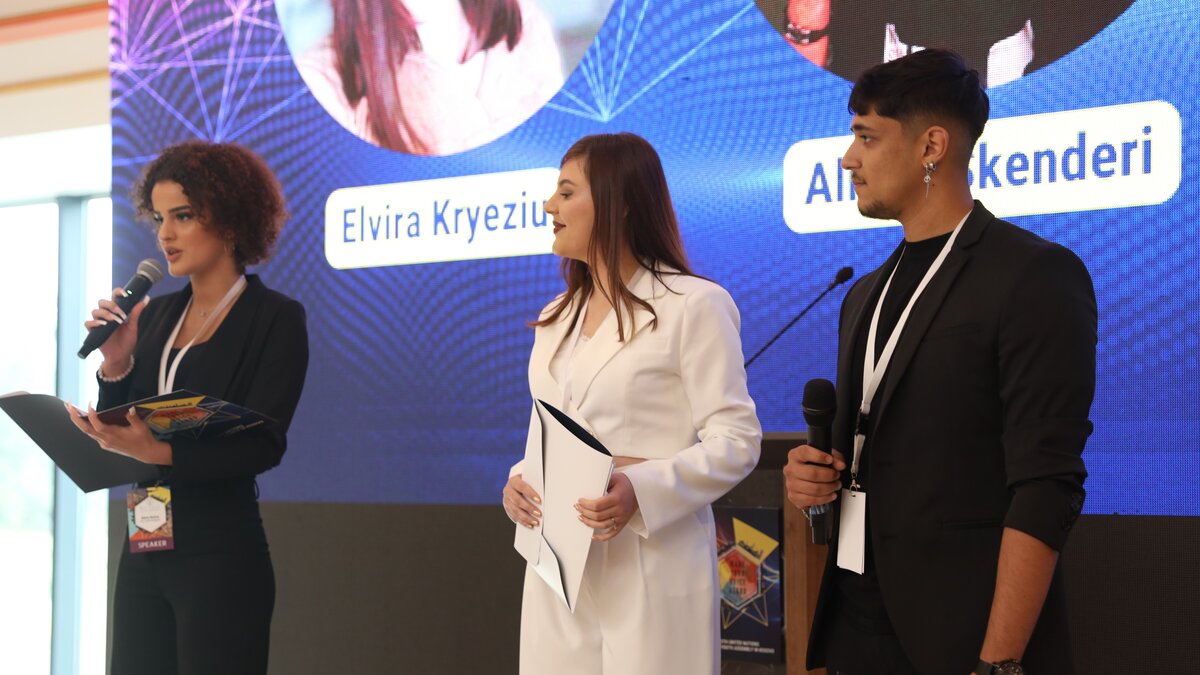 These ideas were perhaps best encapsulated by Nina Rama, one of the three multilingual event moderators who opened the event:
"I am addressing you as my friends because that is how we should feel about each other, because we, the young people, share the same interests and goals.
"We want to get the best education, we want to contribute to the decision-making processes, and we want to participate in building lasting peace…we want to become the leaders of the future!"
Peacebuilding and lasting connections
Special Representative of the Secretary-General in Kosovo and Head of UNMIK Caroline Ziadeh called on the youngsters to keep demonstrating their strength, courage, and creativity.
"You are the force with a task to make a difference in your daily lives and you are demonstrating it. You are transcending discrimination, you are transcending gender disparity, you are transcending fears, and you can make a difference," she said.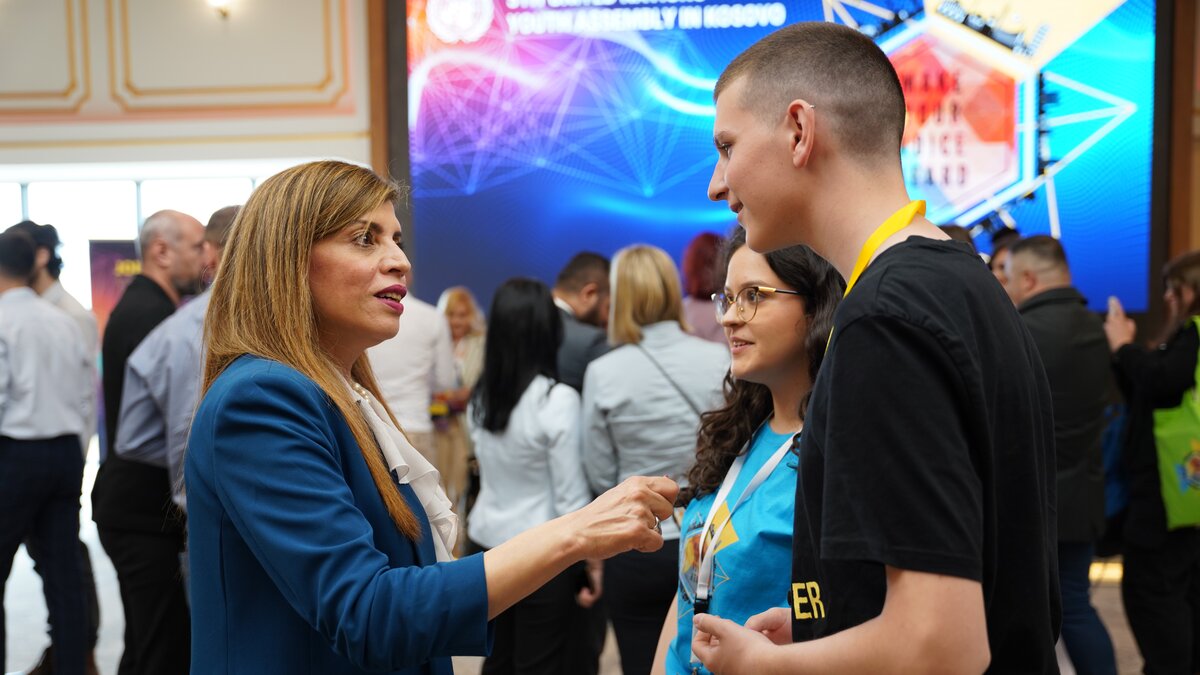 The UN offers many opportunities for young people to engage as partners, including through the UN's Youth Task Force network of young Kosovo peacebuilders, and youth initiatives such as UNMIK's Youth, Peace and Security programme, the UNICEF-led "Generation Unlimited" programme and UNDP's internship programme for young journalists.
However, UN Youth Assemblies in Kosovo represent a great opportunity every year to forge lasting connections.
Learning about others and breaking stereotypes was the main takeaway for Tijana Ristovska from North Macedonia.
"Each nation has its own stereotypes and prejudice about others, until they come into direct contact…and realise that not everything is as it seems and as media is presenting it to us."
It is essential for young people to be involved in peacebuilding, she said.
"Young people are, first and foremost, the leading power in every society, and young people are the ones that need to be here in 10, 15, and many more years to come."
Inclusion was similarly a topic of passion for Ermal Tahiri, 29, from Gjakova in Kosovo, also attending his first UN Youth Assembly. The young advocate from the disability community called on all other young people with disabilities in Kosovo and further afield to participate in activities wherever possible and advocate for their needs – not giving in to concerns of prejudice or stigma.
"We are humans and our rights must also be included in the constitution and laws…we should be part of the decision-making processes and not be divided from society."
Kosovo Deputy Prime Minister for Minority Issues and Human Rights, Emilija Redžepi, who gave opening remarks at the Youth Assembly, encouraged Tijana's and Ermal's determination to build peaceful inclusive societies.
"There is no need to waste time on the past; you can change the system and you can build a better future."
What next?
As part of the assembly, participants were divided into 12 working groups to develop project ideas aimed at promoting peacebuilding, gender equality, and the protection of the environment. The top six, selected by a panel of judges, will be implemented with UNMIK and Peacebuilding Fund support.
In addition, recommendations generated at the assembly will be further formulated in the weeks to come and then shared with Kosovo's inter-ministerial working group led by the Ministry of Culture, Youth, and Sports.
UNMIK Youth Focal Point Iana Minochkina has been at the helm of all five UN Youth Assemblies in Kosovo and said the growth in capacity of young people over that time had been incredible:
"I'm so proud to have seen this Youth Assembly grow from strength to strength over the past five years and to see the synergies that have been forged between youth networks from all ethnic communities – both in Kosovo and the Western Balkans."
In her closing remarks, UNMIK Deputy SRSG Barrie Freeman promised the UN would continue to work together with the youngsters to ensure projects had a regional dimension and that an Alumni Network of the United Nations Youth Assembly would be established after the event to enable them to stay in touch with one another.
"Our world today faces unprecedented challenges – from increases in armed conflict to the impact of climate change, to the rollback of human in rights in many countries…[but] over these two days, you've broken through deeply-rooted boundaries to forge partnerships and friendships that will hopefully go beyond this event," she shared.