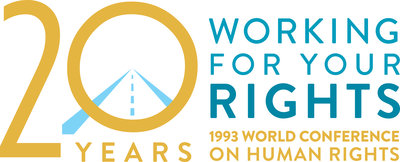 The promotion and protection of human rights is a key priority for UNMIK.
UNMIK Human Rights Section was officially established in July 2016 after the closure of the Office of the High Commissioner for Human Rights (OHCHR) stand-alone office in Kosovo, in 2015.
The Section operates within the framework of the 2011 joint OHCHR-DPKO-DPA-DFS Policy of Human Rights in Peacekeeping and Special Political Missions and is located within UNMIK Headquarters in Pristina and the Regional Office in Mitrovica.
The establishment of the section has strengthened UNMIK's role in ensuring the promotion and protection of human rights in Kosovo through active engagement with Kosovo institutions, in particular the Office of the Prime Minister and the Ombudsperson Institution in Kosovo. The section closely monitors human rights developments in Kosovo and creates synergies and joint activities with key international and local stakeholders, including the United Nations Kosovo Team (UNKT), the Council of Europe, the Organization for Security and Co-operation in Europe (OSCE) and the Ombudsperson Institution. The Section also reports on human rights issues through regular reports to the Special Representative to the Secretary-General Zahir Tanin and inputs to the Secretary General's reports on Kosovo.
With the aim of strengthening and promoting the implementation of international human rights standards in Kosovo, our section focuses on:
• Supporting the implementation of regional and international human rights instruments referred to in the Kosovo Constitution, through technical assistance and capacity-building of Kosovo institutions to fill the protection gap in the area.
• Promoting trust building and fostering dialogue between communities in Kosovo through human rights activities and facilitation of dialogue on human rights issues, focusing in particular on issues such as human rights education, gender-based violence, tolerance and non-discrimination, access to justice and language rights.
• Supporting the work of UN and European human rights mechanisms in Kosovo by promoting their interactions with Kosovo institutions, in coordination with the UNKT and other international organisations.
• Providing substantive inputs for the preparation of Special Rapporteurs' visits and public reports to the Human Rights Council, and following up on recommendations of such mechanisms.
• Supporting transitional justice processes, such as the work being conducted through the official mechanism on missing persons between Belgrade and Pristina, known as the Working Group on Missing Persons, monitoring processes related to conflict-related sexual violence and emerging mechanisms such as the Truth and Reconciliation Commission.
Areas of work:
Promoting International Human Rights Standards