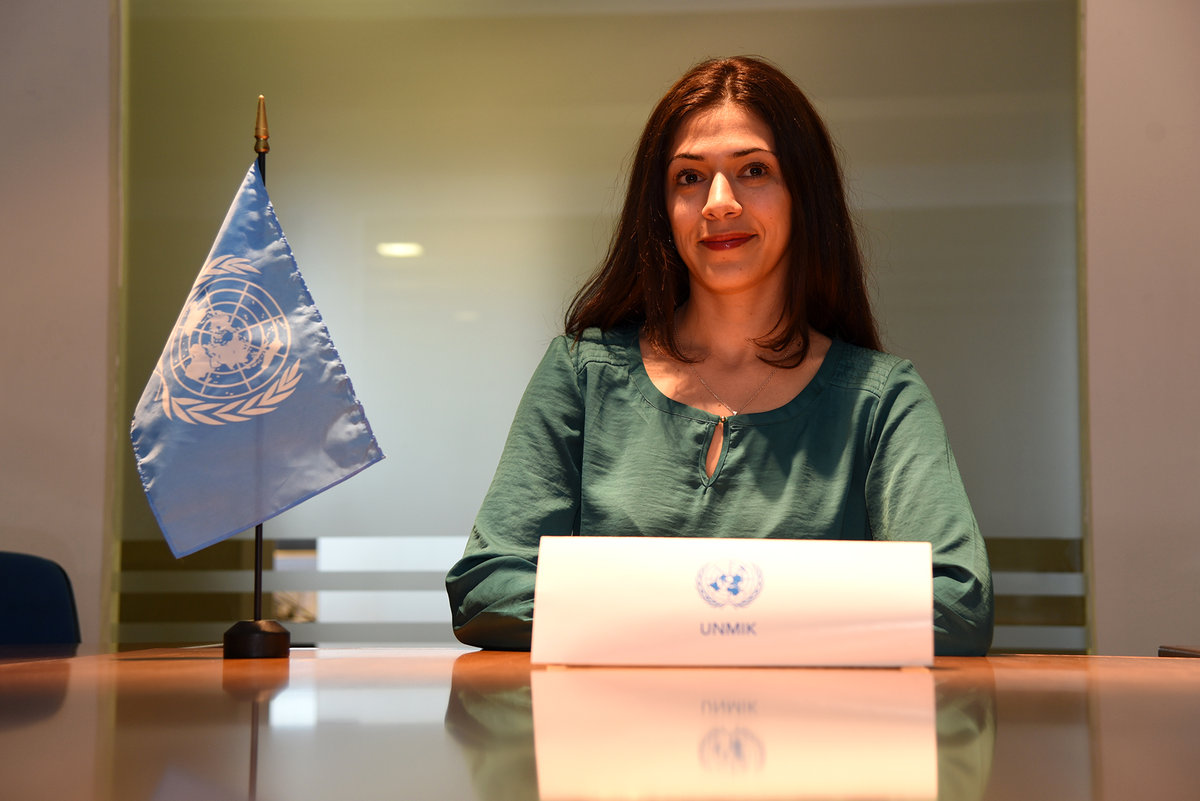 Alda Malko, UNMIK Legal Officer   UNMIK Photo: Shpend Berbatovci
1. Tell us about yourself
I am from Albania. After graduating from the Law School of Tirana University in 2008, I worked for several years as a legal consultant, defense counsel and as an enforcement agent. Working in the legal and rule of law environment was very pleasant for me, but at a certain point I realized that I wanted something different with more challenges and to be part of something bigger. I decided that the international environment had to be the next challenge. Therefore I enrolled myself in the United Nations Volunteer program and here I am. I was deployed to UNMIK in October 2015.
2. What made you want to become a volunteer?
I think voluntarism has always been a part of me. Since my teenage years I remember being involved in initiatives helping others and creating a better surrounding environment.  Later, as a student, I was engaged in student representative bodies. After starting my professional career I had less time to dedicate to volunteer activities, but I never gave up doing that. I always felt I could do more, so I was very happy when I was assigned as a UNV in UNMIK.  Since being here, I've been trying to contribute not only to my job-related duties but also to non-job-related activities organized in the mission, i.e. organizing the end of the year party, collecting donations for the refugee camps, etc. I am very proud to be a United Nations Volunteer and I am driven by my favorite quote about voluntarism that reads: "Those who can, do. Those who can do more, volunteer."
3. How do you find it working for UNMIK?
The UN organization has very high values and I am privileged to be part of it. It is marvelous working in an international environment with people from around the globe with different ethnic, religious and professional backgrounds, including nationals working towards a common goal: peace and prosperity. If I could summarize my experience in one sentence it would be: I love it!
4. What do you do as a Justice Section Legal Officer?
The main function of the Justice Section is to facilitate cooperation among relevant institutions in Pristina, Belgrade and non-recognizing countries on rule of law issues and to strengthen Kosovo's rule of law institutions in accordance with international and regional criminal justice and human rights norms and standards. Part of my daily work consists of processing international legal assistance requests and certification of documents; monitoring and reporting on rule of law related events; providing strategic advice and legal analysis. 
5. As an Albanian speaker how do you accommodate yourself?
Well, being an Albanian speaker definitely makes life easier in Kosovo and especially in my everyday job. Since I have to monitor different events related to the rule of law and often attend discussions and roundtables held in Albanian, I can work faster without the need for translation. Additionally, a significant amount of the documents I work with are in Albanian and not always with a respective translation attached. In such cases it is very useful being able to understand the text without delays.  In my everyday life, outside the office, being able to talk to people in my mother tongue makes me feel at home. 
Interview by Shpend Berbatovci, Office of the Strategic Communications and Public Affairs