KOSOVO'S YOUNGEST ENVIRONMENTAL WARRIORS MEET ENVIRONMENTAL CHAMPION AS THE WORLD CLEARS ITS LUNGS ON ENVIRONMENT DAY
As the world's population recovers from the greatest health crisis of this age, the environment is also recovering - with this year's World Environment Day happening while Kosovo's youngest members of society breathe in some of the cleanest air they have ever experienced.



To mark the occasion under this year's theme 'Time for Nature', UNMIK donated 271 copies of the book 'Uta and the Mountains', which tells the story of Uta Ibrahimi, Kosovo's first woman to summit the world's highest peak Mt Everest, to three women and children's shelters and five children's NGOs.

Ibrahimi, who is also a United Nations Sustainable Development Goals champion, was present at the donations, and shared her story with the young audiences, including 8-year-old Nuela, who recognized Uta as the "mountain girl"
.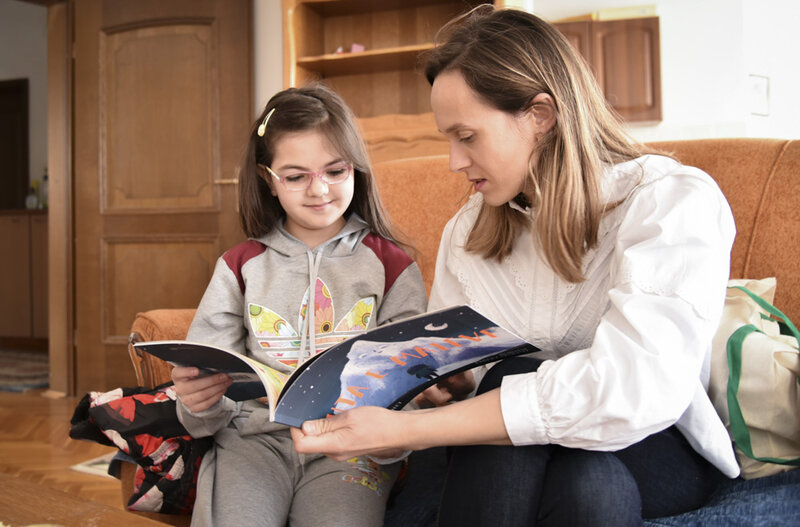 Unmik Environmental officer Nazmije Abdurrahmani with 8 year old Nuela showing Uta's book.

"The mountains are so beautiful - I hope I can also climb one day, just as Uta," Nuela said.

Ibrahimi said the idea behind the illustrated book was to encourage children to dream big and believe in themselves. Uta and the Mountains retells her 2017 journey, when she summited Everest with Tendi Sherpa. The book also tries to introduce the beauty of being in tune with nature and in this aspect is directly related to environmental care and protection.

"At the moment it's clear more than ever that we live in a fine balance with mother nature. I hope through these books our youngest generation can start to explore some of the beauty of the world - and learn why we should take care to nurture our environment," Uta said.


Ibrahimi said it was particularly poignant she spent the day with young Kosovo minds as attitude change needed to happen for any lasting environmental stewardship to take hold - meaning the youngest torchbearers for environmental action were possibly the most important. 

Since the Coronavirus Pandemic and lockdown happened in April, Kosovo's air pollution had decreased 50 per cent, according to the Agency for Environment Protection in Kosovo.  
UN Secretary General António Guterres said nature was sending humanity a "clear message". 

"We are harming the natural world - to our own detriment. Habitat degradation and biodiversity are accelerating. Climate disruption is getting worse. Fires, floods, droughts and superstorms are more frequent and damaging. Oceans are heating acidifying, destroying coral ecosystems. And now, a new coronavirus is raging, undermining health and livelihoods. To care for humanity we MUST care for nature."
Similarly, UNMIK Environmental Officer Nazmije Abdurrahmani said COVID-19 had made it clear that biodiversity and human health were intimately linked - and a sea change was required.
"By upsetting the delicate balance of nature – encroaching on wildlife, reducing genetic diversity in animal populations, emitting pollution that causes climate change and extreme weather events – we have created ideal conditions to spread viruses between animals and us," she said.
Did you know?
Biodiversity involves 8 million plant and animal species, the ecosystems that house them, and the genetic diversity among them.
In the last 150 years, the live coral reef cover has been reduced by half.
Within the next 10 years, one out of every four known species may have been wiped off the planet.
It would take 1.6 Earths to meet the demands that humans make on nature each year.