Jolyon Naegele
Head of Political Affairs Office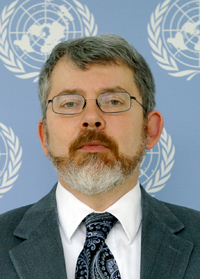 Jolyon Naegele is a native of New York City and joined UNMIK's Office of Political Affairs in 2003. He previously worked as a staff correspondent covering Eastern and Southeastern Europe for RFE/RL Inc. 1996-2003, VOA 1984-1994 and Business International (1980-1984). He began reporting regularly from Yugoslavia, including Kosovo from the mid-1980s, covered the break-up of Yugoslavia from Serbia, Croatia and Bosnia-Herzegovina.
He covered the 1999 Kosovo conflict from Albania and the aftermath from Kosovo. He also covered the conflicts in Serbia's Presevo Valley and in FYR Macedonia in 2000-2001.
Mr. Naegele received an MA in international relations from SAIS/JHU in 1978 and a BA in international relations from CCNY.