"Stories from the Other Side": UNMIK Launches Platform for Cooperation with Young People in Kosovo
Law, political studies and local governance students identified corruption, nepotism, unemployment, educational curriculum, isolation of youth, and unresolved grievances of the past as the key challenges affecting young people in Kosovo.
17 January 2016, Pristina - UNMIK recently launched its Open Doors Days for young people in Kosovo by holding a Working Session called "Stories of the Other Side: Perceptions vs. Reality". The event last month gathered 27 students of law, political studies and local governance from the Albanian, Serb, Bosniak and Roma communities across Kosovo. 

Participants from different communities at the event shared their stories during two thematic sessions that included a panel discussion on UN institutions and UNMIK's contemporary role in Kosovo, and an advocacy exercise in mixed working groups. 
While a majority of the students were studying law, the presence of several students of political studies and local governance created a vibrant discussion and added depth to the conversation. 
The first session of the event was chaired by UNMIK Special Representative of the Secretary-General (SRSG), Zahir Tanin, and included presentations by UNMIK's Justice Section, Human Rights Office and Office of Community Support, outlining UNMIK's role supporting young people in Kosovo.
The SRSG underscored the importance of young people in Kosovo, and encouraged them to be more proactive in exploring interethnic cooperation. SRSG Tanin highlighted that most problems in Kosovo affect all communities, and, therefore, require shared solutions. He emphasized the importance of events of like "Stories from the Other Side".
 
Following presentations by UNMIK's substantive sections, participants were eager to learn about the international mechanisms of human rights protection available for Kosovo citizens, as well as UNMIK's contribution in addressing poor economic conditions and youth unemployment in Kosovo.
During the second part of the event, participants discussed the most pressing issues that they face as young people in Kosovo in mixed groups and tried to identify joint solutions.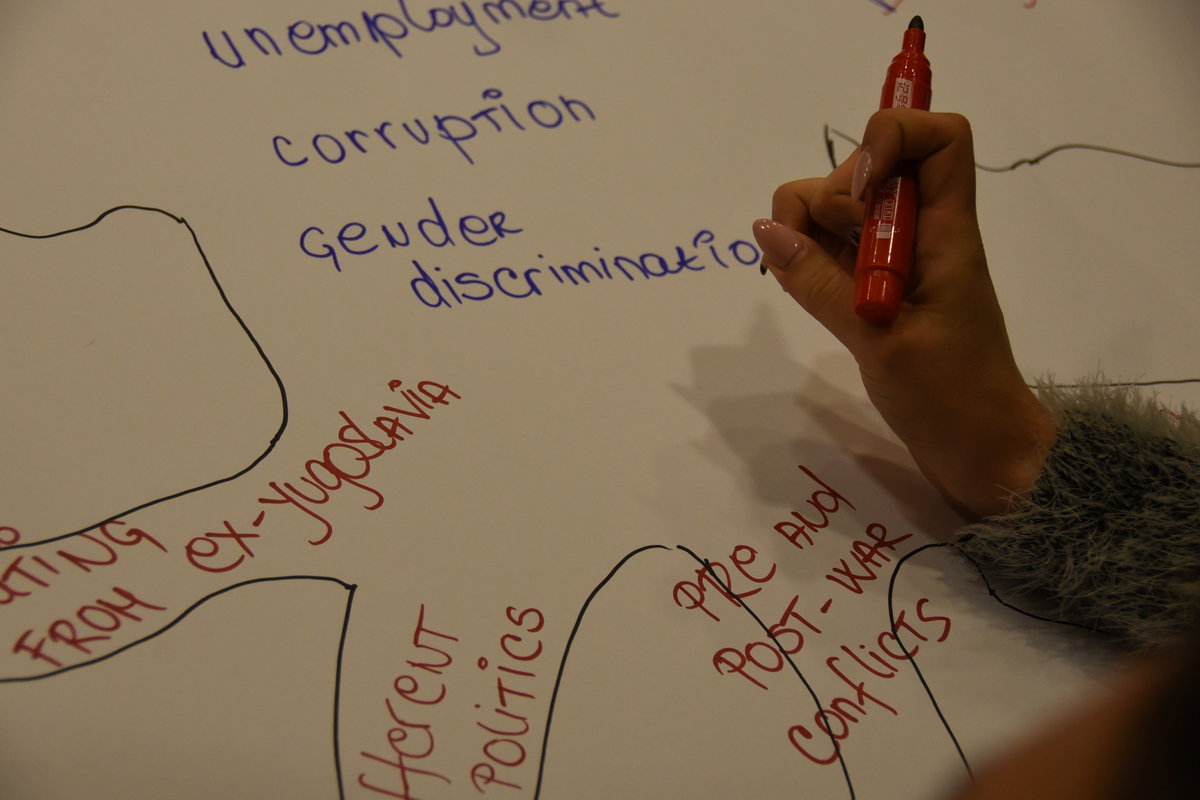 The exercise was based on the "Problem Tree" analysis tool, which equipped the participants with approaches to distinguish real and perceived causes of the social problems and address them through community-based or legal actions.
Participants identified corruption, nepotism, unemployment, educational curriculum, isolation of youth, and unresolved grievances of the past as the key challenges affecting young people in Kosovo.
In a lively discussion participants argued that media and education were powerful channels to improve the status quo, but identified that both remained highly-politicized and unable to match existing needs. 
As for solutions, participants discussed the role of the Local Youth Action Council in advocating for youth-related developments at the municipal levels and ways to improve the visibility of the Local Youth Action Council. 
The topic of the political dialogue between Belgrade and Pristina stirred up a debate about the content and lack of public awareness of the agreements, both of which participants felt increased the possibility of public political manipulation. Participants emphasized that young people, especially young lawyers, could play a crucial role in building awareness and supporting the dialogue process through a social media campaign with clear and creative messages about the actual content of the agreements. 
Youth exchanges and inter-ethnic youth meetings, such as the one hosted by UNMIK, were seen as key drivers of positive change and participants shared their aspiration to see the Regional Youth Cooperation Office functional and operational, as it was agreed at the Western Balkans Summit in July 2016.
The event highlighted many other issues "from the Other Side", and the students offered ideas for solutions. Participants called on UNMIK leadership to support for more convenings of this kind and emphasized their importance – both for learning about the role of UN institutions in Kosovo and for meeting their peers from different ethnic communities – opportunities that were not available through their daily routines or university studies. Shortly after the event the participants continued communication on a newly-created Facebook group. 
The event was organized by UNMIK's Youth Focal Point in cooperation with UNMIK's Justice Section and UN Volunteers.  The UN Mission in Kosovo will host additional events focused on youth in Kosovo in 2017.