More than a dictionary: Marking three years of collaboration to promote multilingualism in Kosovo
A special milestone for linguistic diversity in Kosovo was marked at the "Pjetër Bogdani" Library in Pristina on 20 May - the presentation of the print edition of the largest Serbian-Albanian, Albanian-Serbian dictionary with more than 40,000 words and phrases. 
The dictionary represents three years of work by local language scholars and collaboration between the International Organization on Migration and the United Nations Mission in Kosovo, who have worked together to develop resources for those living in Kosovo who want to expand their language skills to speak and connect with others.
The culmination of these efforts, which coincided with the World Day for Cultural Diversity for Dialogue and Development, is at the heart of the UN's efforts in Kosovo, said Deputy Special Representative of the Secretary-General Ms. Barrie Freeman.
 "UNMIK's cooperation with IOM and the UN Kosovo Team in prioritizing language learning and multilingualism embodies the interrelatedness of the peace, development and human rights pillars of the United Nations' work", DRSG Freeman said.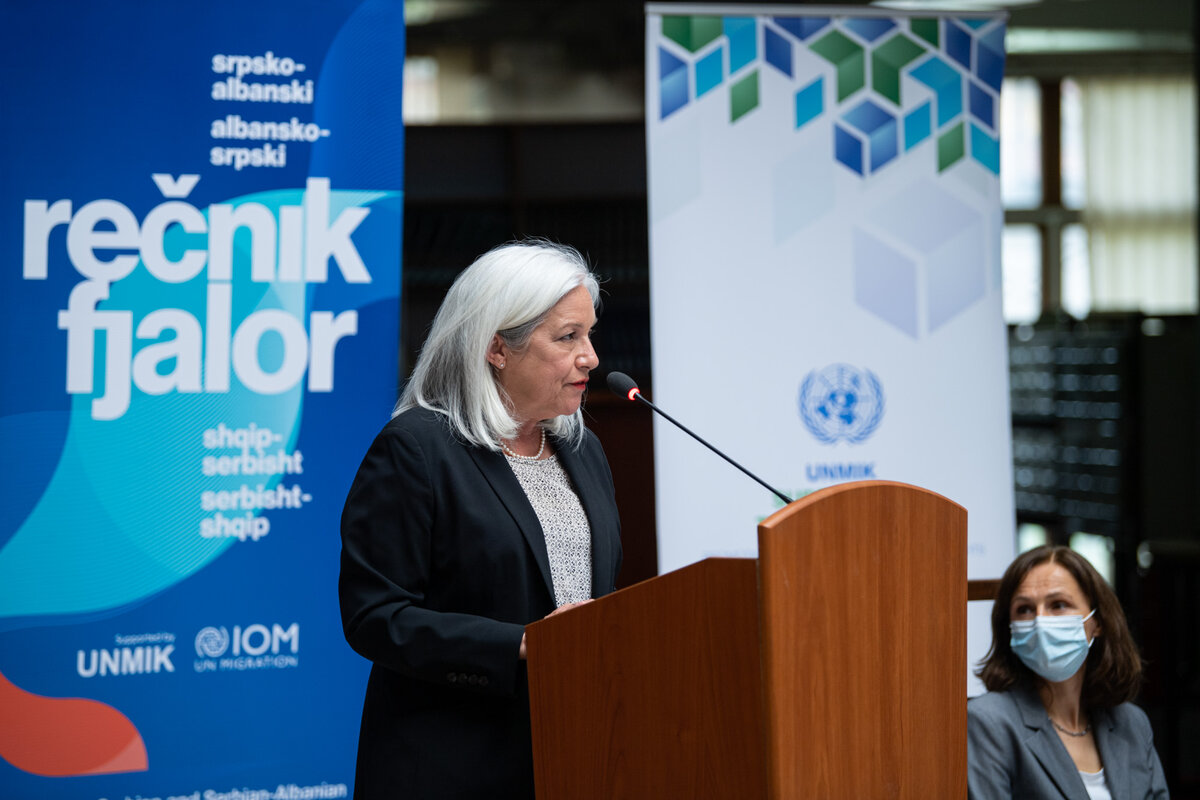 "Language learning and multilingualism play a vital role in building peaceful, sustainable societies by ensuring cultural diversity and cross-community dialogue, as well as by preserving cultural heritage, promoting quality education and strengthening cooperation," the Deputy Head of UNMIK added.
A multi-pronged approach
The online version of the dictionary has gained considerable usage, with 16,000 regular users since its launch in 2019.
The creation of the dictionary brought together linguistic experts from Pristina, Mitrovica and Belgrade for the first time in over 30 years.
The dictionary is part of the umbrella VocUp online platform, which provides free language training in Serbian and Albanian to a larger audience of 60,000 regular users.
Speaking about the accomplishments and partnerships behind VocUp, IOM Chief of Mission Anna Rostocka noted, "Since 2018, IOM, British Embassy and UNMIK have been working together to prioritize language learning as a central element of promoting dialogue and building trust in Kosovo…, language acts as a connector or a divider and there is an evident link between identity, language and social cohesion."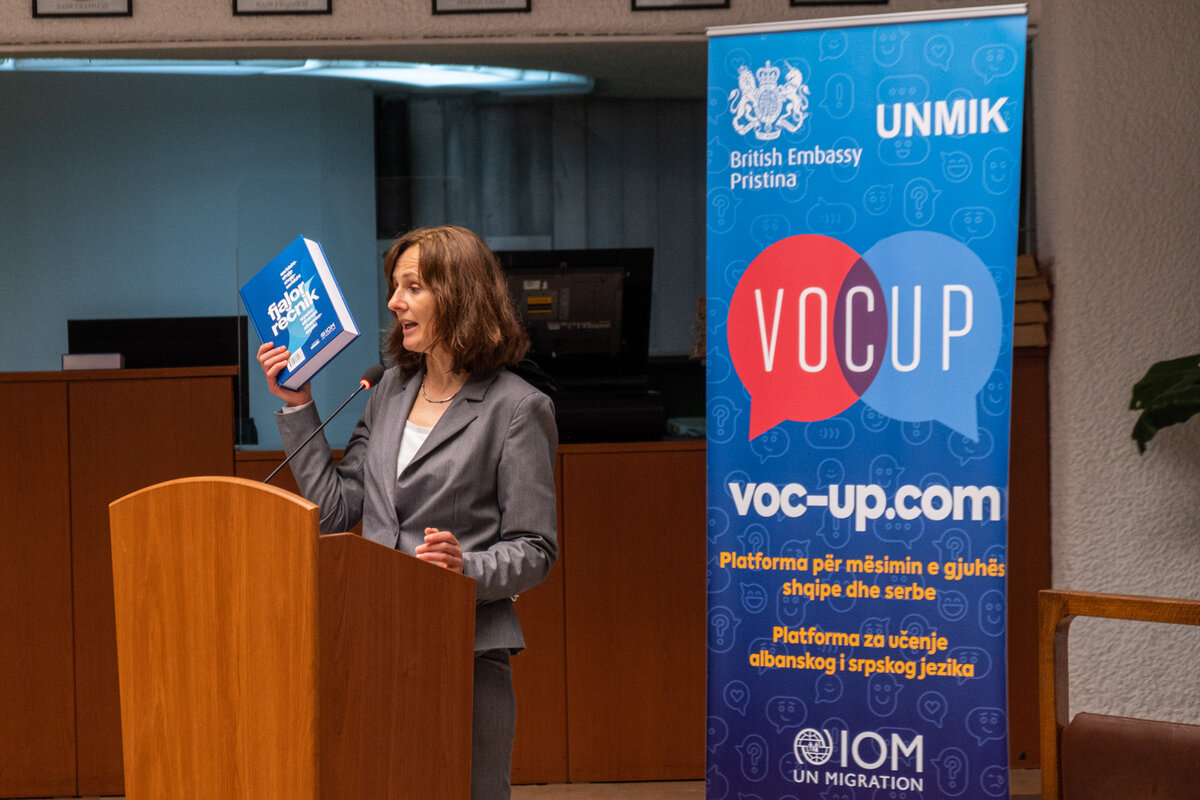 Slaviša Mladenović, Kosovo Language Commissioner added; "This milestone is a symbol of cooperation and coordination, without which we wouldn't have been able to have achieved such a monumental work as a Serbian-Albanian dictionary - We should all be proud today."
Institutionalizing multilingualism
DSRSG Freeman also noted during her remarks recent progress to promote multilingualism in higher education in Kosovo.
Praising the University of Pristina's efforts to establish a Language Center to provide extra-curricular language training and certify the qualifications of language professionals, in addition to the re-accreditation of the Balkanistics language programme, DSRSG Freeman noted, "These are important steps toward advancing linguistic academia and ensuring sustainable support for a multilingual Kosovo."
Indeed, as many event panelists noted, the region had previously been far more multilingual. By supporting efforts to restore linguistic diversity, the IOM and UNMIK aim to more broadly support Kosovo-wide trustbuilding initiatives.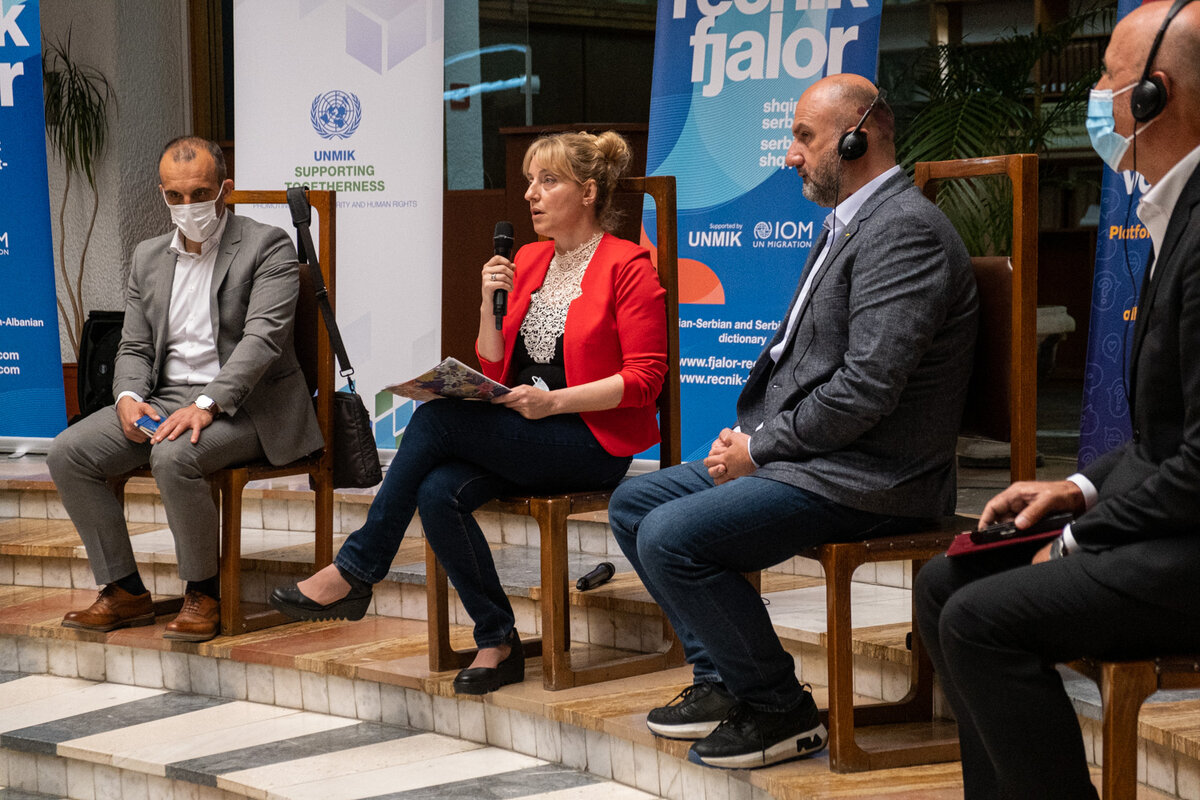 Deputy Prime Minister Ms. Emilija Redžepi reiterated this in her remarks, emphasizing how multilingualism can open up Kosovo to the Balkans and the region, to; "build good neighborly relations with all people that speak other languages, the more we are worth."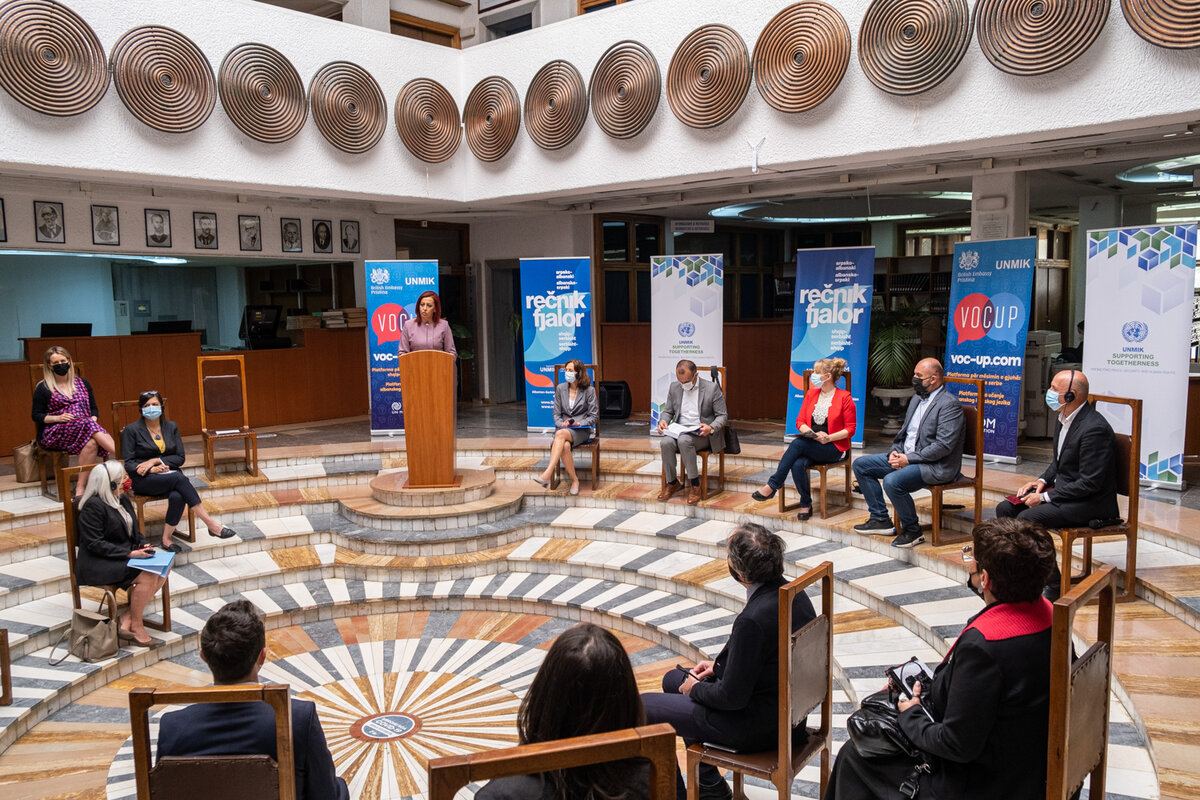 Indeed, the benefits of promoting multilingualism extend from local community building to international cooperation.
As Ms. Merima Krijezi, a Professor of Linguistics at the University of Belgrade, who collaborated with colleagues in Pristina to produce the dictionary told the audience, "If you speak several languages, it gives you the opportunity to have a house full of windows and many lights inside."