SPECIAL REPRESENTATIVE OF THE SECRETARY-GENERAL VISITS Lipjan/Lipljan MUNICIPALITY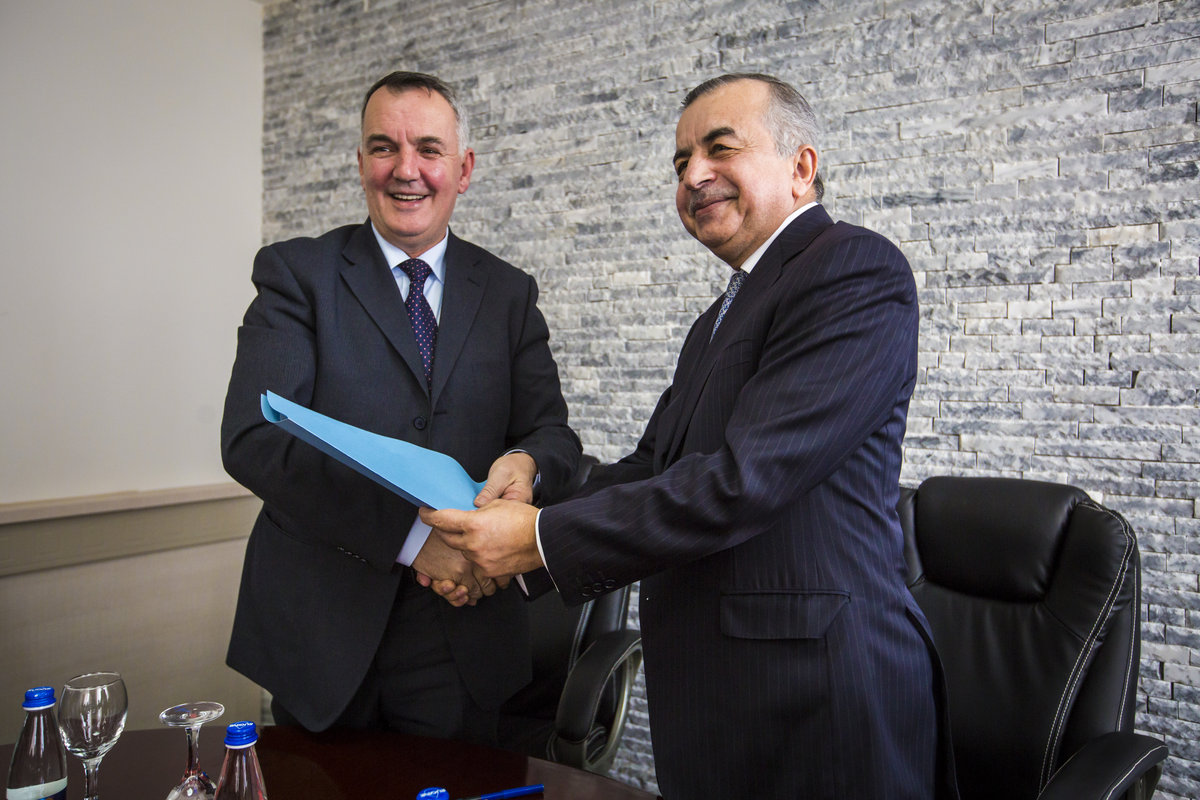 SRSG Zahir Tanin shakes hands with Lipjan/Lipljan Municipality mayor Mr. Imri Ahmeti after signing an agreement to transfer ownership of an UNMIK 4x4 vehicle. 
The need for employment generation and the continued need for reconciliation between Kosovo's ethnic communities were two of the matters discussed by UN Special Representative of the Secretary-General Mr. Zahir Tanin and his leadership team with the Mayor and community leaders during a visit to Lipjan/Lipljan municipality on 20 January.
SRSG Zahir Tanin and a delegation that included his Deputy, Mr. Christopher Coleman, were hosted by Mayor of Lipjan/Lipljan Mr. Imri Ahmeti and his staff. Upon the conclusion of his visit to the Municipal Offices, SRSG Tanin donated an UNMIK 4X4 vehicle to the municipality – which has so far been operating without one as a cost-saving measure – before continuing in the company of the Mayor to visit important cultural sites.
Mayor Ahmeti tests out the Lipjan/Lipljan Municipality's new vehicle, donated by UNMIK. 
SRSG Tanin commended Mayor Ahmeti's efforts to draw his community together in a peaceful and inclusive manner. Mayor Ahmeti said that while his town had representatives of all ethnic groups in the business sector, with good cooperation amongst all communities, the biggest challenge faced by the municipality is the creation of employment opportunities for residents.
Lipjan/Lipljan Municipality's orthodox church Svetog Flore and Lavre. 
SRSG Tanin extended UNMIK's support for the Municpality's endeavours and encouraged more concrete steps in work on missing persons cases, greater inclusion of women in civil society and reconciliation among ethnic communities. There was agreement on the SRSG's view that: "It is important that we link the youth to the future, and not with the past."
The SRSG confirmed UNMIK's willingness to help facilitate any efforts towards societal reconciliation.
UNMIK delegation, including DSRSG Coleman (left) and SRSG Tanin sit with members of Mayor Ahmeti's staff inside the Lipjan/Lipljan Municipality buildings.
The UNMIK delegation also visited the Orthodox Church Svetog Flore and Lavre in Lipjan/Lipljan, a site of ongoing restoration works funded by the European Union and implemented by UNDP, and went on to visit Kosovo Croat community leader and Catholic Priest Don Mateo Palić at the Sveti Nikola Catholic Church in Janjevë/Janjevo. Don Mateo briefed the visiting delegation on the recent history of Janjevë/Janjevo and its community, and welcomed international interest and expressed his hope that the evident goodwill would encourage concrete support and investments for the community.
SRSG Tanin thanks Kosovo Croat community leader and Catholic Priest Don Mateo Palic after a visit to his catholic church Sveti Nikola in Jajevë/Jenjevo.