Discovering Unheard Stories: Human Rights Living Library in Pristina
7 December 2016, Pristina - The UN Human Rights Office, in cooperation with OSCE, the Council of Europe, and the European Union Office in Kosovo, jointly celebrated International Human Rights Day under the banner of "Stand Up for Someone's Rights Today" at a cafe in Pristina.
In the spirit of this year's International Human Rights Day theme, which calls each of us to make a difference, step forward and defend the rights of anyone at risk of discrimination or violence, the four organizations established a Living Library event where the books were real people, sharing their personal stories of how they stood up for the rights of those discriminated against.
Five emblematic "Books" from Kosovo spoke about stereotypes, prejudice and challenges they face in their daily life.
Among them, a young Ashkali/Egyptian woman shared how others stigmatized her based on her skin colour and origin. 
A young journalist explained her efforts to amplify the voice of the voiceless in collective centers for refugees and displaced people in Serbia.
A human rights activist shared how he built constructive dialogue between communities divided along ethnic lines and how he assisted civilians who were forced to flee their homes as a result of the conflict.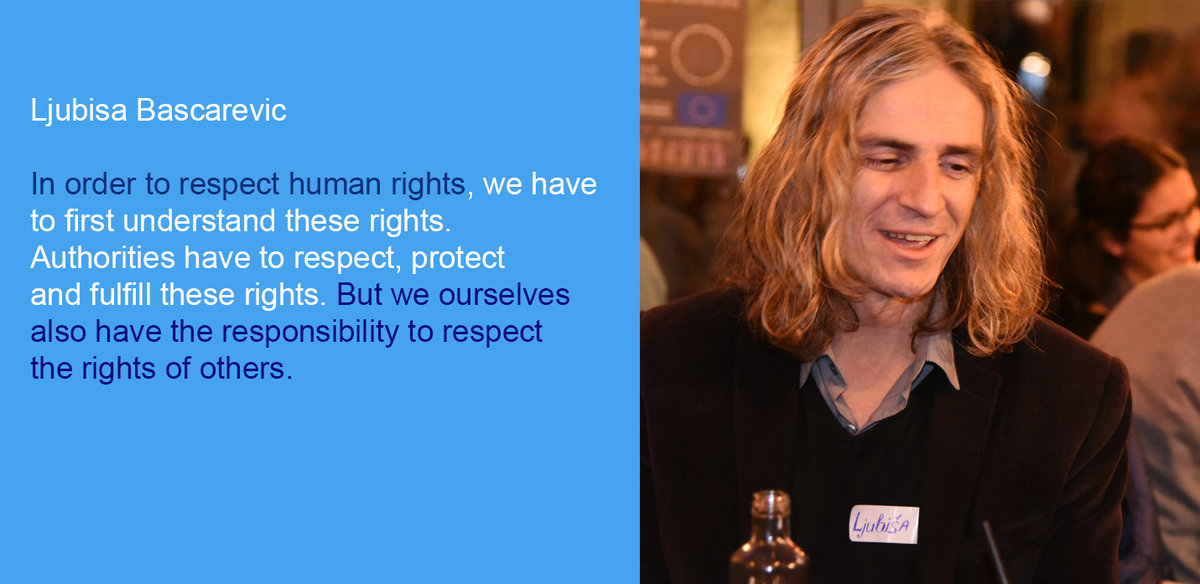 A man with serious visual impairment described how he had to overcome significant obstacles in his everyday life, including discriminatory treatment from people.
The participants also heard from a Book about the challenges in a kindergarten for Roma, Ashkali and Egyptian children.
The exchanges with the living Books were open to the public and aimed at increasing awareness of human rights challenges faced by minorities or groups discriminated against.
To close the event, the Special Representative of the Secretary-General, Zahir Tanin (UNMIK), Ambassador Jan Braathu (OSCE), Isabelle Sevoz Gallucci (Council of Europe) and Thomas Gnocchi (EU) handed over certificates to the Books in recognition of their courage and openness in sharing their stories publicly.  
Addressing the participants, SRSG Tanin said that the motto of this year's Human Rights Day "Stand up for someone else's right" is "an invitation for all of us to defend human rights, to stand up for them, and to be part of a collective effort to strengthen the values that led to the adoption of the Universal Declaration of Human Rights."
"It is also an invitation for us all not to tolerate continuing violations of human rights, no matter where we live," he added.
Ambassador Braathu said that this year's Human Rights Day slogan is exactly to the point: "We must stand up for others' human rights, and that is the best way of protecting our own human rights. So, it is not only being idealistic and altruistic, but it is about being realistic and understanding that we have a shared responsibility. We have a responsibility towards our neighbors as they do towards us."