LIVING LIBRARY: STORIES FROM CHANGEMAKERS; SPOTLIGHT ON GENDER EQUALITY
Eight inspiring women and men from across Kosovo gathered in a cafe in Pristina on the evening of 7 December, to discuss gender norms and stereotypes that contribute to inequalities and provide a pretext for gender-based violence.
Around the tables in the cozy cafe, the enthusiastic and transformative change-makers shared their stories as part of the jointly organized Living Library event.
Living Books
The Living library works like a normal library; visitors can browse the catalogue for the available titles, choose the "Book" they want to read, and borrow it for a limited period of time. After reading, they return the Book to the library, and if they want, they can borrow another.
The only difference is that in the Living Library, books are real people who share their personal stories in a very informal atmosphere and engage in lively discussions with their respective audiences.
The inspiring stories of this year's Books tackled gender stereotypes and obstacles while striving for gender equality and challenging social and cultural norms.
Highlighting Gender Biases in Media 
ne of the Books, Besa Luci, is a journalist and founder of the unique multiplatform news magazine Kosovo 2.0 which cover stories that often remain silenced or unreported in Kosovo.
Besa said that being part of a society where social and gender inequalities are grave plays a crucial role in the decisions she makes in her profession.
"There is this tendency to limit media's role only to that of informing and reporting. But the power and impact of our work goes well beyond that," Besa said.
"I believe media carry responsibilities in the types of representation they create," she added.
Men Challenging Negative Gender Social Norms
Stefan Veljković is a champion in advocating and promoting the concept of gender equality among young people, in the North Kosovo.  
Stefan shared some of his stories highlighting the importance of the engagement of men in fighting against inequality, and said he would want his society to maximize the well-being of both men and women on a daily basis by achieving gender equality in the cities, suburbs and villages.
"It's common sense. If we have an equal society, we will lead far better lives," Stefan said.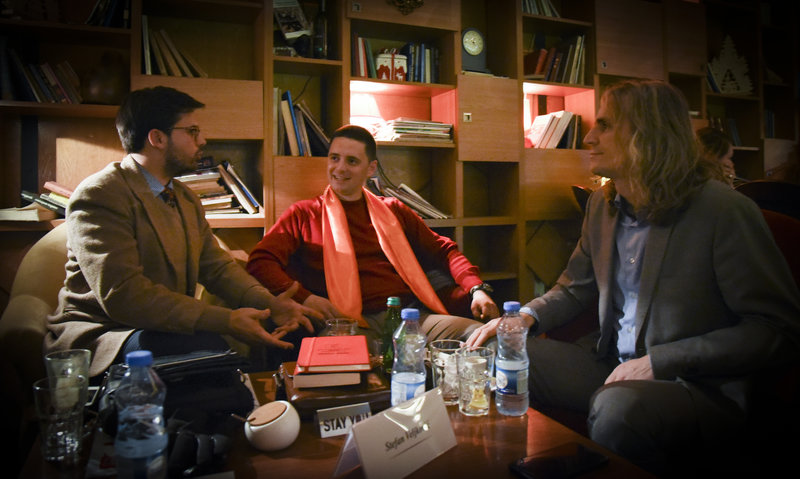 "Choosing Education over Anger"
Another inspirational Book was a young activist, Agim Margilaj, who is fearlessly fighting against discrimination of LGBTi people in Kosovo. Agim has often crossed the limits and gone beyond what is "acceptable" to challenge the social norms and regular opinions.
When dealing with stereotypes and inequality, he strongly believes that one must first start from himself.
Agim shared personal positive stories of resistance against homophobia with the readers. He said every small action counts, because "small actions bring big actions."
"I choose education over anger," Agim added.
"Never Give Up!"
Malesore Gashi, a woman of technology, who leads the IT Department of the University College in Pristina, was one of the other books whose inspiring stories of challenging the male-dominated world of technology received enormous positive feedback from the audience.
Similarly, Uta Ibrahimi, the first woman from Kosovo to summit the Mount Everest, shared her encouraging story of not giving up, no matter the obstacles.
"No matter if you are girl or a boy, if you are small, short or tall, you can still climb mountains," Uta said.
16 Days of Activism Campaign against Gender Violence
The Living Library was organized as part of the 16 Days of Activism campaign that takes place each year from 25 November to 10 December under the UN Secretary-General's campaign UNiTE to End Violence against Women.
The readings of event were open to the public in order to increase awareness on the importance of understanding gender equality and changing social and cultural norms to prevent gender-based violence.
At the end of the event, The Deputy Special Representative of the Secretary-General Chris Coleman, together with Mr. Vahagn Muradyan, the Deputy Head of Council of Europe Office in Pristina, Ms. Annette Fath-Lihic the Chief Political Adviser/Executive Coordinator of the EU Office in Kosovo/EU Special Representative in Kosovo and Ms. Barbara Rohmann, Director of Human Rights and Communities Department of OSCE Mission in Kosovo thanked the books for their great contribution to the event and handed over acknowledgment certificates in recognition of their courage and openness in sharing their stories publicly.  
The event was organized by the Council of Europe Office in Pristina and UNMIK, in cooperation with the EU Office in Kosovo and the OSCE Mission in Kosovo.