Standing with Kosovo: UNMIK delivers food and hygiene packages to all municipalities in Kosovo
As Kosovo, along with the rest of the world, faces what may become one of toughest periods in living memory, UNMIK has ensured food and hygiene packages reach all municipalities as part of its broader COVID-19 response.
The last of the total 2159 food packages and 1450 hygiene packages were delivered on May 19 and are with municipalities for onward distribution.
The donations are part of just one aspect of UNMIK's COVID-19 response, a month-long assistance drive, which also includes donation of personal protective equipment and technological tools.
UNMIK staff member prepares boxes ready for delivery at UNMIK Headquarters. 
The drive was kicked off by the Special Representative of the Secretary General and Head of UNMIK Zahir Tanin on May 12, who made the first donation to Fushë Kosovë/Kosovo Polje mayor Burim Berisha. SRSG Tanin said the initiative aimed to reach communities in all municipalities, especially the most vulnerable.
"UNMIK is here to support the people, the institutions, the communities and the future of Kosovo. If this pandemic has made one thing clear it is that the world must stand united to overcome this hurdle; we will fight this challenge together," SRSG Tanin said.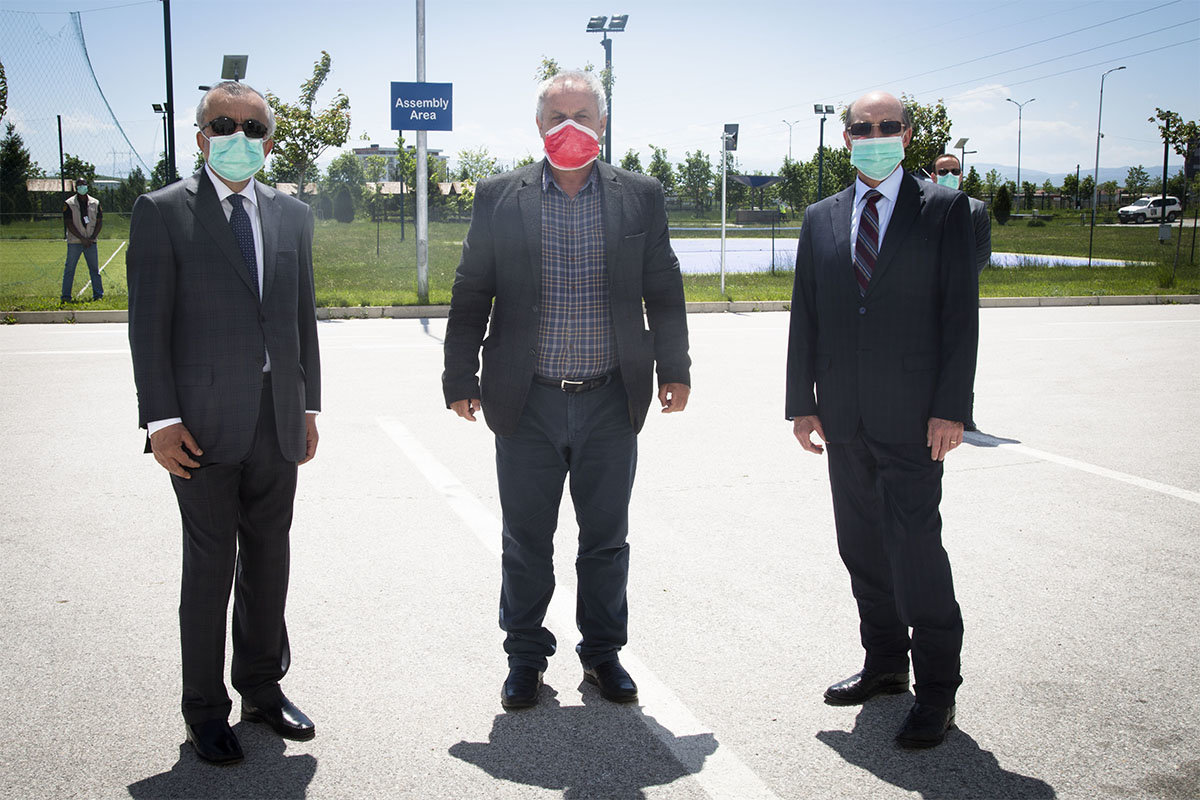 SRSG Zahir Tanin and Deputy SRSG Christopher Coleman with Fushë Kosovë Mayor Burim Berisha at UNMIK Headquarters during a donation to the municipality.
Mayors pledge: support where it's most needed
As deliveries were made during the course of the week, mayors, health directors and other local authorities were on-hand to receive the donations, which were equitably distributed in accordance with needs of municipalities.
Mayors throughout Kosovo thanked UNMIK for the donations and said they would ensure the packages made their way to the most vulnerable people in their respective municipalities.
Gjilan/Gnjilane mayor Lutfi Haziri signs paperwork after the UNMIK donation of food and hygiene packages.
Thanking the SRSG for the mission's continued support, particularly during the time of hardship, Gjilan/Gnjilane mayor Lutfi Haziri said the "unmerciful virus" did not recognise religion, ethnicity or community.
"I thank the UN mission in Kosovo, which through its representative in Kosovo, Zahir Tanin, brought to Gjilan 93 food packages and 40 packages of hygienic products, for the families in need."
Head of UNMIK's Office of Community Support Office Leonid Markaryan with Kamenicë/Kamenica mayor Qëndron Kastrati in front of a truck with municipality donations waiting to be offloaded.
Kamenicë/Kamenica mayor Qëndron Kastrati said the aid would be delivered to the most needed places during the challenging days ahead.
"I have said several times that we cannot pass the pandemic without being together."
North Mitrovica mayor Goran Rakić said the timely support would go to the most vulnerable families in the fight against the pandemic.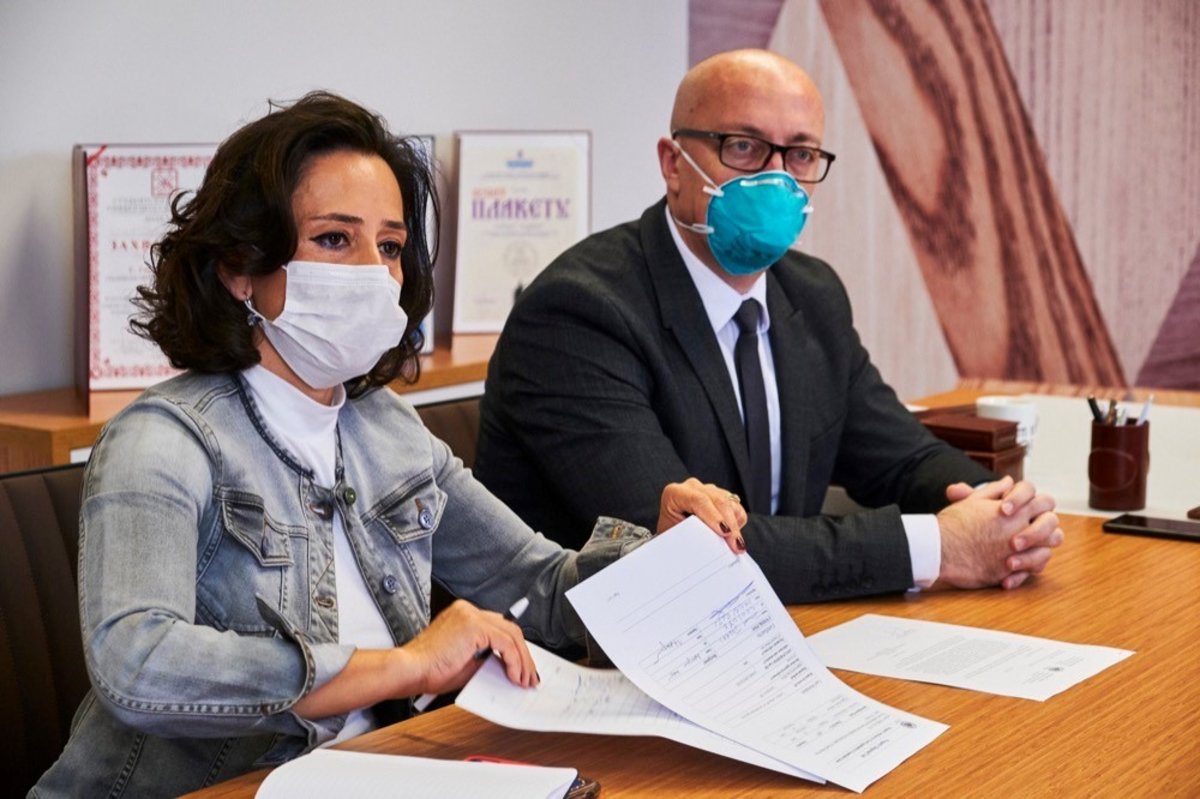 North Mitrovica Mayor Goran Rakić and the municipality's chief executive officer Adrijana Hodžić signing paperwork during the donation of packages to the municipality.
South Mitrovica Health Department Director Erseka Hasanaj Barani said as the world fought the COVID-19 pandemic, the municipality was doing its best to support families in need.
"All help that we receive is really necessary, given the financial problems that we are facing as a Municipality.
UNMIK Civil Affairs Officer Dijana Simijonović oversees movement of packages during the transfer of goods for onward distribution to northern municipalities. 
The food packages included flour, oil, milk, rice, pasta, salt, sugar, canned meat, canned fish; while the hygiene packages included soap, shampoo, dishwashing liquid, laundry detergent, toothpaste, feminine hygiene products and toilet paper.
Printing for prevention - 3D Printers to aid the fight
During the first week of donations, six 3D printers and almost 150 packs of filament for printing face protection shields were also donated to the Gračanica Innovation Center and the Center for Diversity and Minority Development (SMAART) in Klokot/Kllokot.
UNMIK Chief of the Mission Support Division Sandi Arnold unloading boxes of 3D printers and filament for delivery to Gračanica Innovation Center and the Center for Diversity and Minority Development (SMAART) in Klokot/Kllokot.
The donations continue on from earlier similar donations made to Mitrovica-based NGO LINK and the organisations are working in coordination with each other to print protective face shields for donation to frontline health workers.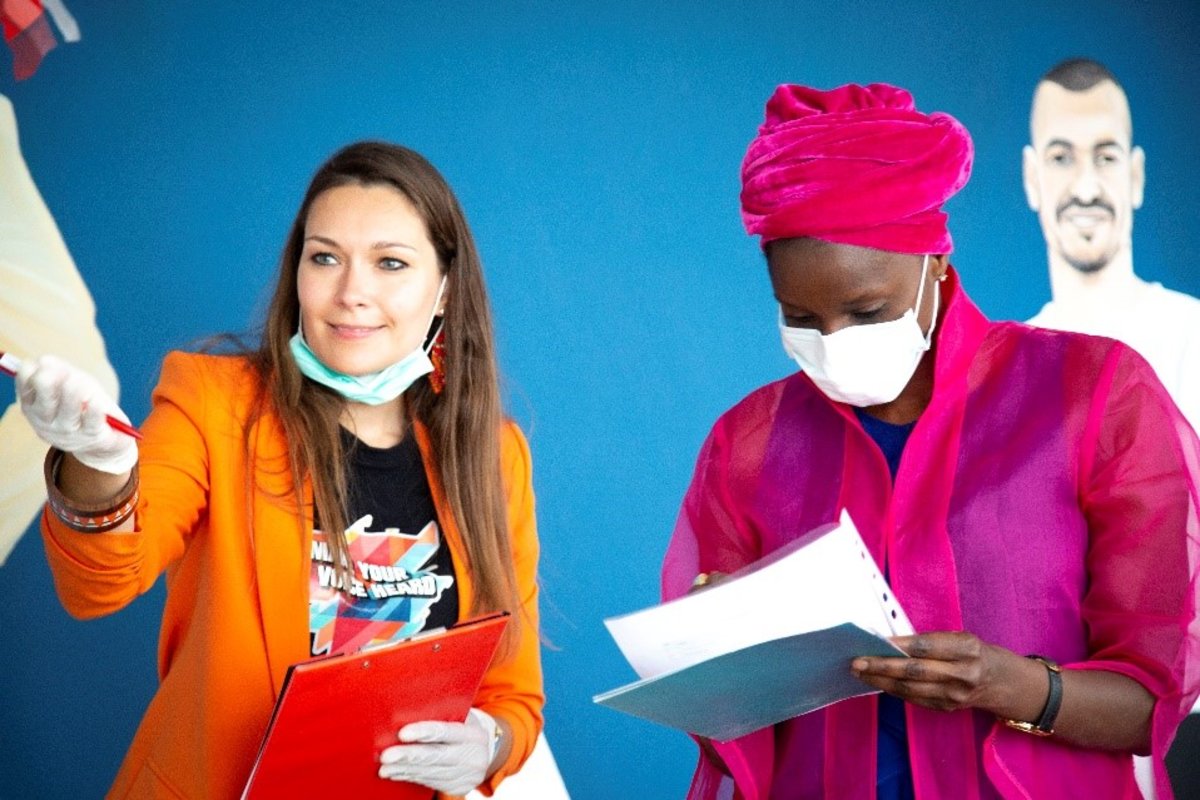 Chief Procurement Manager Fatima Tafida and Youth Advisor Iana Minochkina preparing paperwork during the delivery of 3D printers to the SMAART centre in Klokot/Kllokot.
Gračanica Innovation Center has been working around-the-clock since the pandemic started, using just one printer and volunteer help to produce 600 face shields that have been donated to health facilities. The new printers mean a 300 per cent increase in production capacity.
Meanwhile, the SMAART centre in Klokot/Kllokot was about to open its doors to an underserved multiethnic youth community before the pandemic - and lockdown - hit.
The centre has been running online courses on mental health in the meantime and, with this delivery, will begin producing face shields for donation to local pharmacies and hospitals.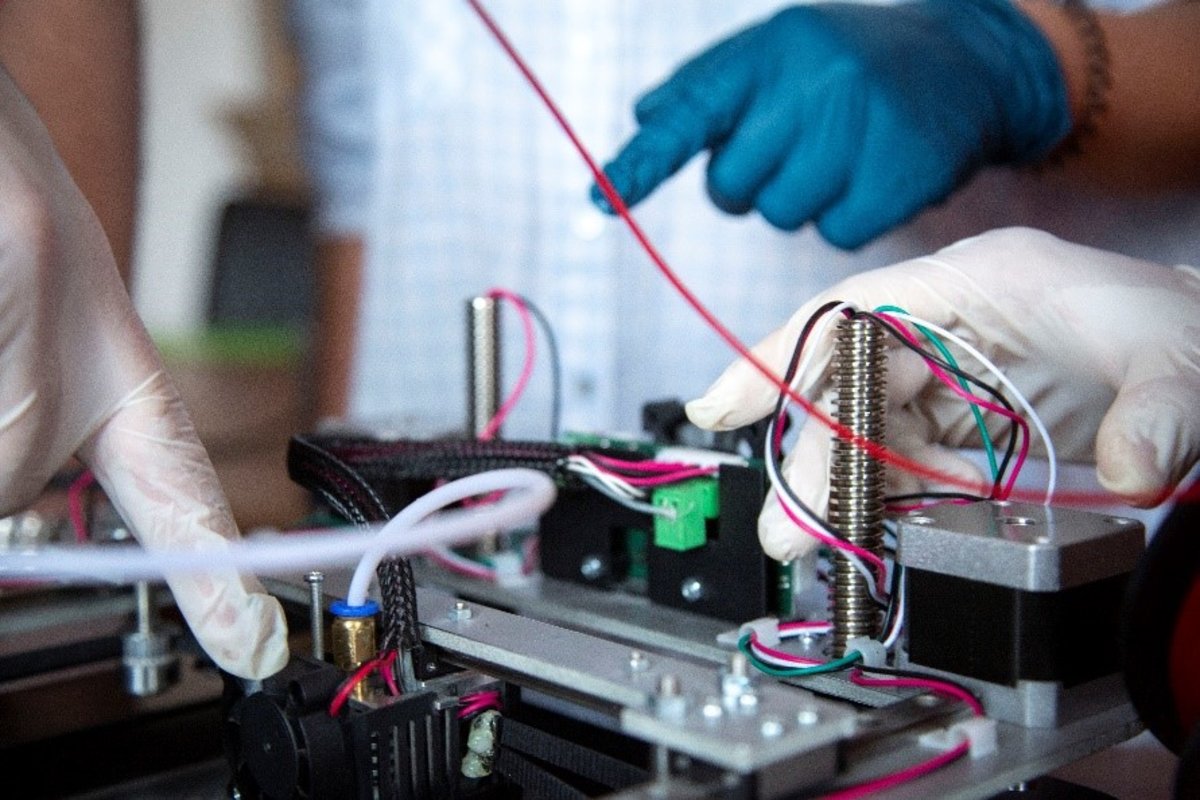 The SMAART team in Klokot/Kllokot examine the inner workings of a 3D printer, one of six delievered to enable them to start printing 3D face shields.
Second phase
The second phase of the donations which will include 2072 protective equipment packages and 265 tablets will start soon, while many other Mission activities and COVID-19 response work are ongoing. Each package of protective equipment will consist of 50 mask and glove pairs. They are being provided in direct response to a considerable number of requests received from municipalities.
"UNMIK is working with partners to support communities through other projects – and will continue to do so – as the consequences of the global pandemic continue." SRSG Tanin said.
UNMIK stands with the people of Kosovo!
SRSG Zahir Tanin gifts environmentally-friendly donations to the Fushë Kosovë municipal team during a handover of donations to the municipality on the first day of a month-long assistance drive.
Details of food and hygiene donations:
12 May 2020:
Day One, 12 May 2020:
87 food packages and 40 hygiene packages to Pejë/Peć, 
50 food packages and 40 hygiene packages to Deçan/Dečane, 
50 food packages and 40 hygiene packages to Istog/Istok.
50 food packages and 40 hygiene packages to Klinë/Klina, 
93 food packages and 36 hygiene packages to Prishtinë/Priština, 
50 food packages and 30 hygiene packages to Fushë Kosovë/Kosovo Polje 
50 food packages and 40 hygiene packages to Podujevë/Podujevo
13 May 2020:
93 food packages and 40 aid packages to Gjilan/Gnjilane
50 food packages and 30 hygiene packages to Kamenicë/Kamenica
50 food packages and 40 hygiene packages to Ranillug/Ranilug
50 food packages and 40 hygiene packages Novobërdë/Novo Brdo
14 May 2020:
Three 3D printers and 72 packs of filament for printing of face protection shields to the Gračanica Innovation Center
50 food packages and 30 hygiene packages to Junik
75 food packages and 40 hygiene packages to Gjakovë/Đakovica
50 food packages and 40 hygiene packages to Malishevë/Mališevo
50 food packages and 40 hygiene packages to Rahovec/Orahovac
50 food packages and 30 hygiene packages to Graçanicë/Gračanica
50 food packages and 30 hygiene packages to Lipjan/Lipljan
50 food packages and 40 hygiene packages to Shtime/Štimlje
63 food packages and 44 hygiene packages to North Mitrovica
63 food packages and 44 hygiene packages to Leposaviq /Leposavic
15 May 2020
79 food packages and 59 hygiene packages to South Mitrovica
63 food packages and 44 hygiene packages to Zveçan/Zvečan
50 food packages and 40 hygiene packages to Shtërpcë/Štrpce
50 food packages and 40 hygiene packages to Partesh/Partes
50 food packages and 40 hygiene packages to Kllokot/Klokot
93 food packages and 40 hygiene packages to Ferizaj /Uroševac
50 food packages and 40 hygiene packages to Viti/Vitina
50 food packages and 40 hygiene packages to Kaçanik/Kačanik
50 food packages and 40 hygiene packages to Han i Elezit/Ðeneral Janković
3 3D printers and 72 packs of filament to the Center for Diversity and Minority Development "SMAART" in Klokot/Kllokot
16 May 2020
88 food packages and 40 hygiene packages to Prizren
50 food packages and 30 hygiene packages to Mamushë/Mamuşa/Mamuša
50 food packages and 40 hygiene packages to Suharekë/Suva Reka
50 food packages and 40 hygiene packages to Dragash/Dragaš
50 food packages and 40 hygiene packages to Skenderaj/Srbica
50 food packages and 40 hygiene packages to Vushtrri/Vučitrn
50 food packages and 40 hygiene packages to Obiliq/Obilić
19 May 2020
62 food packages and 43 hygiene packages to Zubin Potok